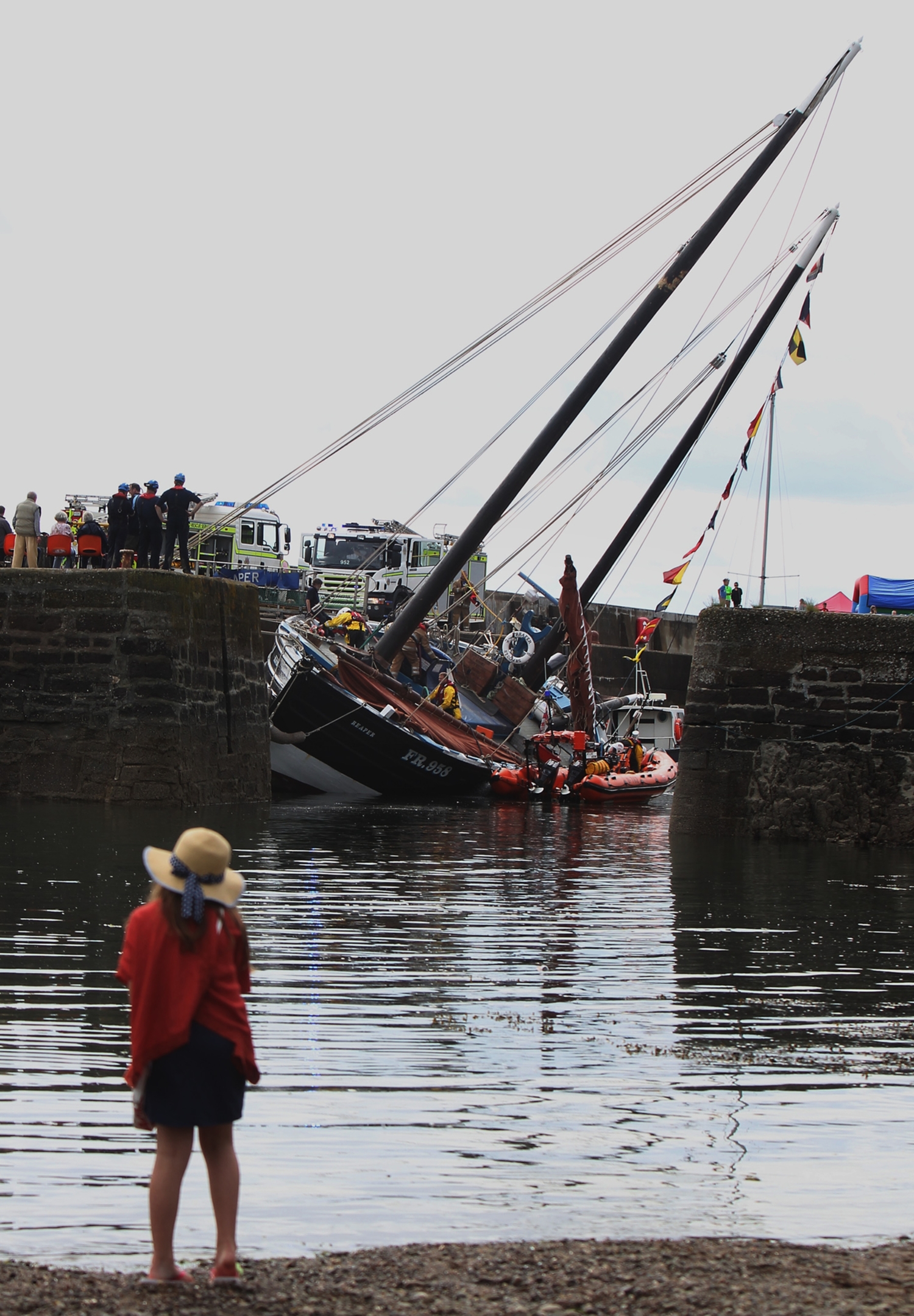 An ancient fishing vessel which toppled over in a Mearns port will now sail south to Arbroath to undergo extensive repairs.
The Reaper is upright again following a salvage operation after it keeled over on to its side in Johnshaven harbour on August 6.
Canvas patches have been applied to the damaged side of the Fraserburgh-built vessel to keep the water out for her journey to Arbroath.
John Firn, vice-chairman of the Anstruther-based Scottish Fisheries Museum, which owns the boat, said the Reaper will be out of commission for the rest of the year.
He said: "It has been made waterproof and brought back to normality.
"We need to get some clearances from a number of people before we take the boat down to Arbroath where we will have a proper assessment.
"There will be no more events involving the Reaper this year."
He also paid tribute to the "absolutely fantastic people in Johnshaven" who have "looked after" the team.
The 70-foot Reaper, which dates back to 1902, keeled over with members of the public onboard at the Johnshaven Fish Festival.
The strong gust of wind caught the sails and threw one of the six crew overboard on to the harbour floor.
Neil Bone – honourable 
secretary of the Scottish Fisheries Museum's boats club – is now recovering from a cracked vertebra.
Efforts to pump water from the hull and refloat the boat in the harbour were initially unsuccessful due to the damage being too severe.
Built by J&G Forbes at their yard at Sandhaven near Fraserburgh in 1902 for the Buchan family who lived in St Combs, Reaper began life as a two-masted sailing lugger.
She moved to Shetland and was registered at Lerwick in 1908, where she had great success at the summer herring fishing.
In the late 1930s she held the record catch of herring for Shetland – 223 cran (an 18th century unit of measure of landed uncleaned herring), or almost a quarter of a million fish.
She continued fishing until the outbreak of the Second World War, when she was requisitioned by the Admiralty and saw service in the South of England.
After the war, she returned to fishing in Shetland until 1957.
In 1959, she was purchased by Zetland County Council for use as a "flit-boat" carrying general cargoes and renamed Shetlander.
She retired in 1974 and was purchased by the Scottish Fisheries Museum as a restoration project.