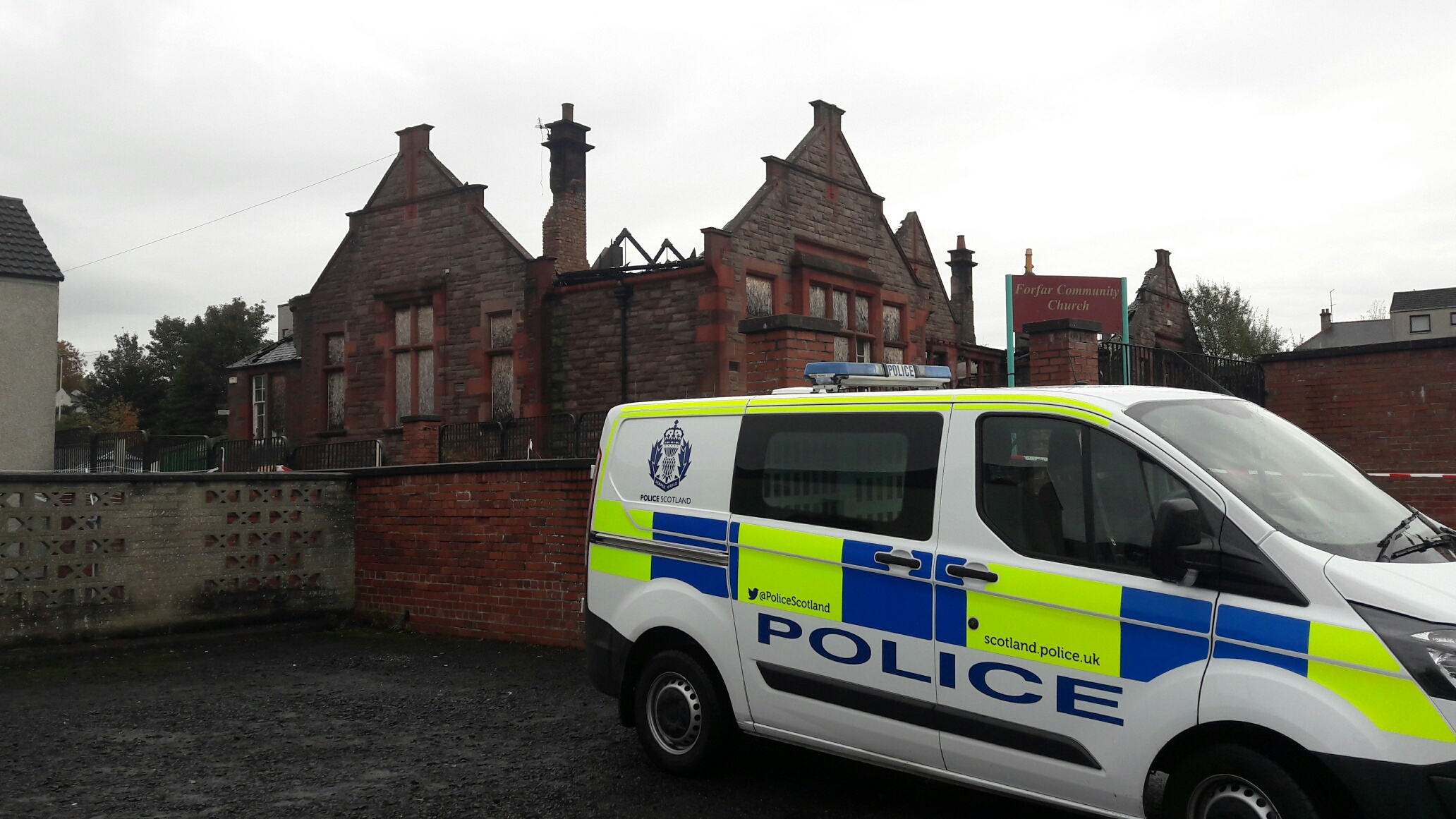 Police and fire investigators will be probing the possibility that young intruders sparked the blaze which gutted a former Forfar primary school.
As a town crew remained at the scene of the smouldering shell of the old Wellbrae primary following an operation which at its height involved 50 firefighters from Angus and Dundee, a devastated neighbour and former pupil of the school revealed a spate of incidents involving youngsters breaking into the derelict building.
Former Forfar community council chairwoman Isobel Ross said police and the owner of the building had faced an "impossible job" keeping teenagers out of the one-time north burgh school.
Flames which leapt around 30 feet from Saturday night's inferno could be seen for miles and hundreds of people watched as the 135-year-old listed building was reduced to a charred shell.
Eight Scottish Fire and Rescue crews from Forfar, Kirriemuir, Brechin, and the Dundee stations of Blackness Road, Kingsway and Macalpine Road were involved in the operation after the blaze took hold around 7pm.
The firefighters managed to prevent the fire spreading to a cottage close to the old school, and to the Forfar Community Church which is housing in the former school dining room annexe.
Former Forfar community council chair Isobel Ross and her husband John's home backs onto the school and they spoke of the "terrifying" sight of the historic building being consumed by the ferocious blaze.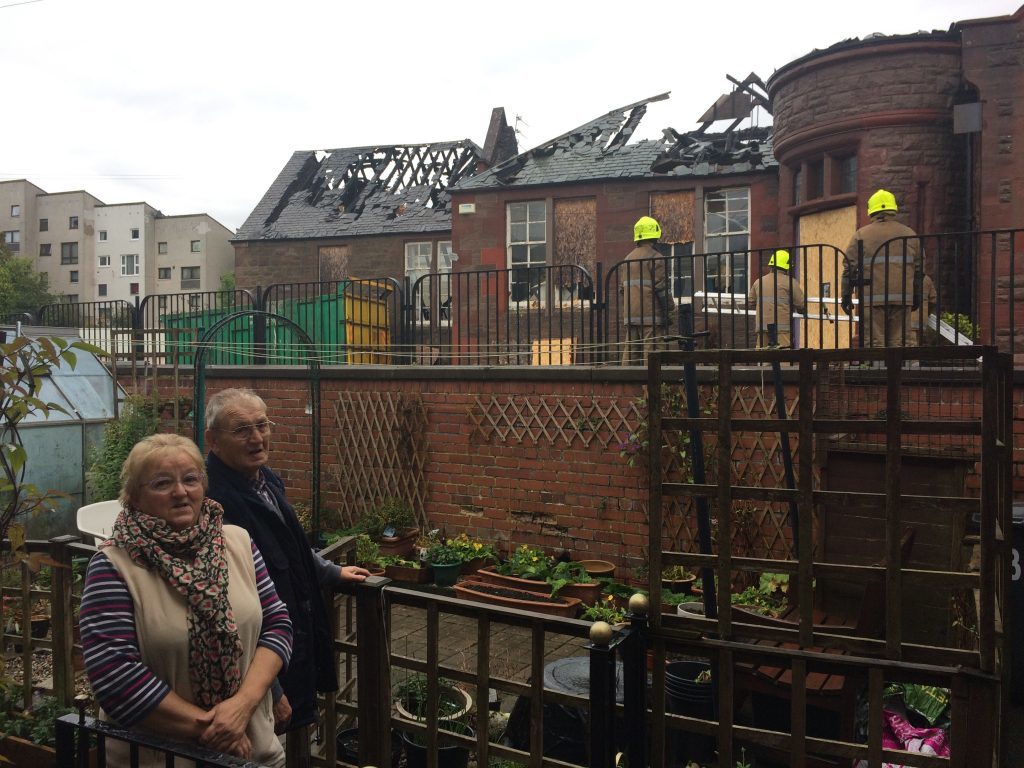 "It's just devastating to see, but the main thing is that thankfully there was no loss of life and no-one was seriously hurt," said Mrs Ross.
"The fire service and the police were absolutely excellent, I cannot thank them enough for what they did for us."
Mr Ross said his greatest fear was that the distinctive turret at what was the old main door of the school would collapse and come crashing down into the rear of their home.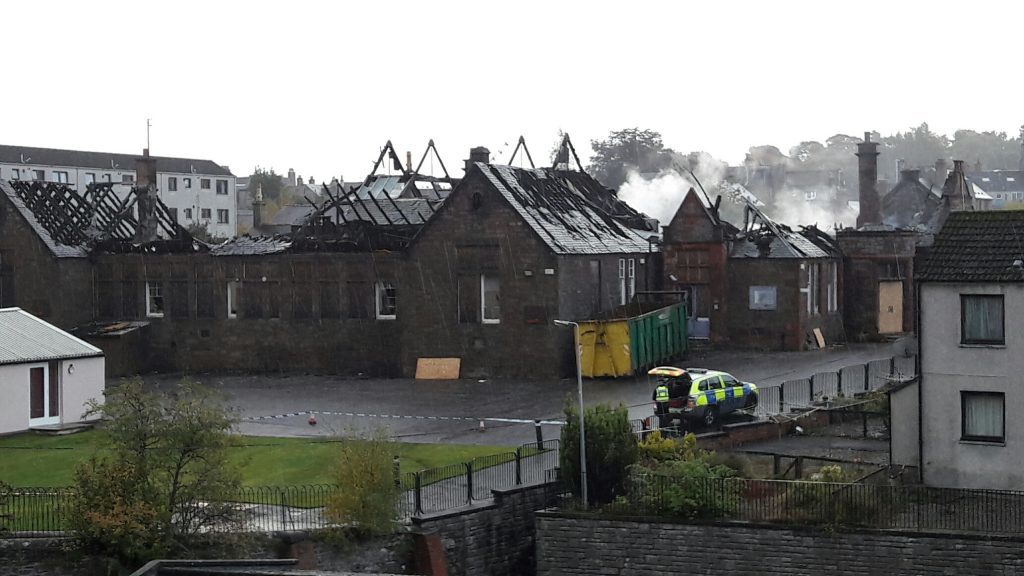 "It was really ferocious, the fire just ripped through it," he said.
The couple say that despite attempts by the owner to keep the building secure, it has latterly been a magnet for youngsters.
"We've caught youngsters running out of the school and the police have always turned out, but what can they do?" said Mrs Ross.
"This has been an accident waiting to happen."
Full coverage of the blaze and its aftermath in The Courier on Monday.