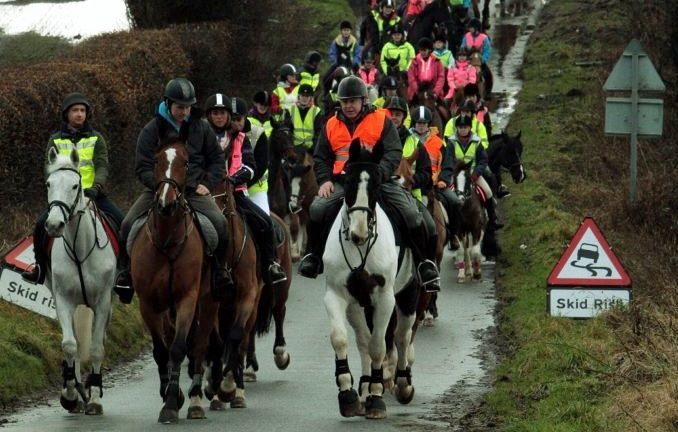 News that a well-known Angus New Year event is heading for the history books has prompted a strong response from Courier readers.
After a half century of encouraging horse riders young and old to take part in a 14-mile trek from Conchie's stables, organisers David and Irene Conchie have decided to call time, citing health and safety difficulties.
A testament to how well-regarded the event is: some came to reminisce or commiserate, some offered solutions, and some came for a good old-fashioned shake of the head at this state of affairs on The Courier's Facebook page.
"What if everyone just 'chose' to trek that route?" said Carey Sinclair. "So it's not an organised event as such. Has to be a loophole somewhere."
Nostalgia for the event, which had taken place uninterrupted for 50 years, has been the dominant theme.
Fiona Bodie said: "My girls have loved the new year trek for many years and always appreciate the hard work put in from David and Irene and all the staff at Conchie's. Those memories will last them a lifetime."
"We loved to see them coming up Tay street in Monifieth," said Joyce Brown. "Such a shame."
Sheila Kite was certain of where the blame should be attributed and adamant that a galvanised community response was the best foot forward.
"Will be sad if this tradition goes, I'm ashamed of Police Scotland and Angus Council for not pulling out all the stops to allow this to continue," she said. "I'm sure many of the horse riding community in Tayside would volunteer to help if this would enable the ride to continue. After all, horses were on the roads long before cars."
Sheena Melvin summarised the problem with a more diplomatic point of view.
"I have supported this event for many years and very sad to see it end but don't think you can blame it all on Angus Council and Police," she said. There are many more factors which have to be taken into account, such is the ever-changing society in which we live."