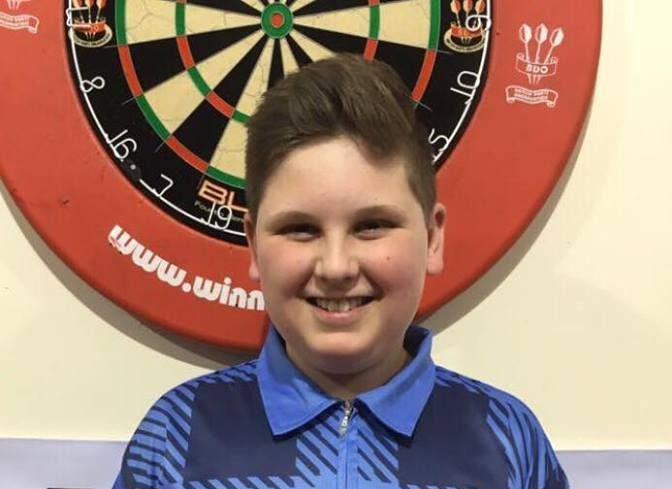 An Angus darting wonderkid will contest a world final on the famous Lakeside stage in front of a worldwide TV audience of millions.
Nathan Girvan from Craichie near Forfar qualified for the final of the BDO Lakeside World Youth Championships 2017 and will toe the oche at Frimley Green on January 12.
The 14-year-old Forfar Academy pupil charged his way through a packed field of talented youth players from around the world to qualify through the play-offs.
His route to the Lakeside final included a 170 check-out in his semi-final match against Dutch player Maikel Verbert to set up a head to head with arguably the top ranked youth in the world.
Nathan will now face 16-year-old Justin Van Tergouw from Holland who is the current World Youth Master and Europe Cup Youth champion and the match will take place during the afternoon session of the world championships.
The final — which will be shown live on Channel 4 in the UK and screened across Europe — should hold no fears for Nathan who topped the Scotland Youth tables this season and has been on sparkling form, winning eight tour titles out of a possible 13.
Nathan has been throwing darts for as long as he can remember but things started to get serious when he joined the Angus Darts Academy which started up in 2012.
"He was unbeatable from the time he started at the academy," said Nathan's grandfather John, who also plays darts locally.
"He's full of confidence and performing in a world final at the Lakeside won't phase him.
"Van Tergouw is the favourite but I've told Nathan that it's all about what happens on the day.
"If Nathan can keep up with him and force him into a mistake then he might cause an upset.
"It might be his day, it might not be his day, but whatever happens, he is a champion in my eyes.
"To get this far at such a young age is a tremendous achievement."
The Angus Darts Academy is run by Arbroath and Scotland darts player Alan 'Soots' Soutar who has appeared twice in the worlds at Lakeside and nicknamed Nathan 'NvG' as his scoring prowess reminded him of Dutch tungsten sensation Michael van Gerwen.
Soots has described Nathan's success as "absolutely amazing" while two-time world champion Gary "Flying Scotsman" Anderson has also praised the youngster's achievements.
Victory for Nathan would see him join Jocky Wilson and Les Wallace as Scottish winners of a world title at Lakeside and Soots will be travelling with Nathan's family to support him.
Nathan represents Angus at county level and has already appeared for Scotland at youth level.
He is warming up for the final by continuing to practice every day and he dreams of one day turning professional.
"There is big money in darts and Nathan has natural ability," said John.
This will be the third time a youth championship has taken place at Lakeside.
Last year's winner was England's Josh Richardson.