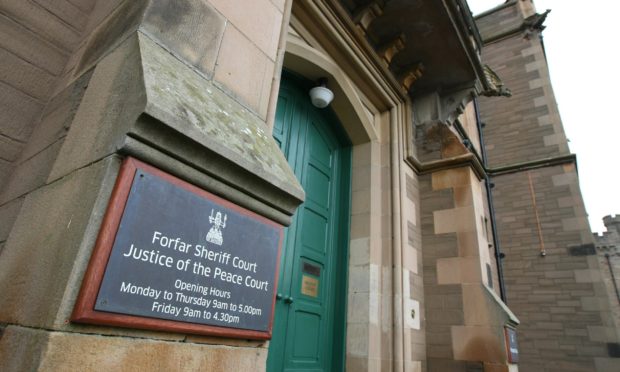 A new "hug a hoodie" court dealing with persistent and troubled Tayside offenders was launched on Wednesday.
Forfar Sheriff Court lost its status as a sheriff and jury court in August following a decision by the Scottish Courts and Tribunal Service (SCTS).
The time previously kept for indictment matters has been rebranded by Sheriff Principal Marysia Lewis as a "problem solving court" monitoring the progress of accused with chaotic lifestyles.
The sittings could help with housing or access to drug and alcohol treatment services.
A court insider has already dubbed this as "hug a hoodie" but one of the court's two sheriffs said the exercise will help protect the county's citizens.
An MSP has said the idea's effectiveness should be monitored but welcomed the opportunity to "unclog" high-pressure sentencing days at the 147-year-old court.
Addressing 19-year-old serial offender Dylan Ferguson, Sheriff Gregor Murray said: "We've introduced a problem solving court which means we can sit down with persistent offenders such as yourself and addresses the difficulties you have.
"More importantly, this stops the county of Angus from being subjected to your stupidity."
The first sitting of the court commenced with the case of a 17-year-old who did not complete a 200-hour unpaid work order as an alternative to custody, which was revoked ahead of a social work report.
Other cases involved two women who work with the acclaimed Glen Isla Project for persistent female offenders in Angus, and a rehabilitating drug user assisted by the Havela scheme in Arbroath.
Liam Kerr, Scottish Conservative MSP for the North East, said: "Our sheriffs will know better than anyone how best to handle the workload in courts that are under extreme pressure due to closures by the SNP government.
"If this will help to unclog the system and deal with persistent offenders more effectively, then I would be fully supportive.
"It is important that this initiative is monitored closely, however, to ensure it delivers positive results and that valuable court time is not being wasted."
Forfar is the only sheriff court in Angus, following the closure of Arbroath's centre of justice in 2014.
It stopped conducting jury trials at the end of last year, with cases transferred to Dundee.
Solemn proceedings, which are raised as petitions in private at Forfar, are now transferred if they are not reduced to summary level.
The SCTS said the decision was part of changes to improve the "consistency and quality of service."
Chief operations officer David Fraser said: "The Problem Solving Court can deliver community sentences, known as structured deferred sentences, which are tailored to influence an individual's behaviour and hold them accountable.
"Progress is regularly monitored by the same sheriff, usually through face-to-face review hearings, allowing for a relationship to develop and consistency to be maintained.
"The new court, introduced by Sheriff Principal Lewis, will sit fortnightly at Forfar and as has been introduced following consultation with justice partners.
"This is an exciting approach focused on tackling and changing offender behaviour.
"Any suggestion that the new court is somehow linked to pressures due to court closures is inaccurate and misses the point."