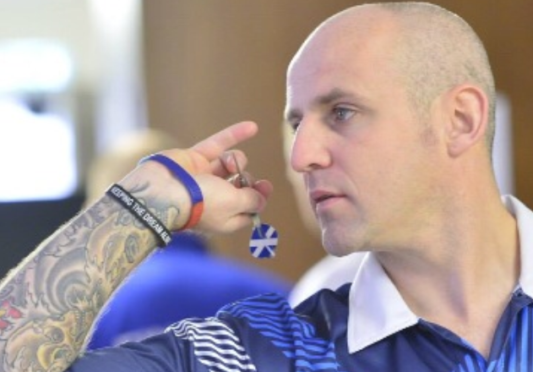 Six Angus darts stars will represent Scotland in an Auld Enemy clash that will give the county's darting talent further live TV exposure.
Arbroath darts player Alan 'Soots' Soutar will captain Scotland at the 38th Annual British Internationals Championships which will be available in 19 million homes across the UK and Northern Ireland on Front Runner TV.
The men's squad also includes Euan Callendar from Arbroath while four of the six players chosen for the youth squad are from the Angus Darts Academy which was founded by Soots in 2012.
Young guns Nathan Girvan, 14, Johnny Gallazzi, 13, Brandon Nicoll, 16, and Rebecca Graham, 15, will get another chance to shine on the world stage at the event in Bradford next month.
Soots said: "I have been involved in darts all my life and it was a huge part of my family's life for as long as I can remember.
"Playing darts in my grandparents' pub The Skate Inn, over 20 years ago, who would have thought that I would go on to achieve what I have in darts?
"On March 24 when I lead the Scottish team out as captain it will be the proudest moment of my darting life.
"To captain Scotland is the biggest responsibility and honour ever bestowed upon me.
"I will make sure that I am meticulous in my preparation."
The Angus Darts Academy was put firmly on the world map in January when 14-year-old Craichie youngster Nathan Girvan finished runner-up at the BDO Lakeside World Youth Championships at Frimley Green.
Nathan is the most high-profile of the youngsters that play darts every week at the Café Project in Arbroath under the watchful eye of mentor Soots.
Soots said: "I think another proud factor will be there will be four Angus Darts Academy players in the Scotland team with me.
"I sacrifice a lot in life to give these guys a chance to earn these moments and I will be glad to share it with them.
"After a thrilling year in 2016, I'm looking forward to another huge year in 2017 when the BDO British Internationals will be shown live.
"This is another great opportunity for BDO players to shine on the world stage on a terrestrial TV channel free to everyone."
Front Runner, the UK's only free-to-air sports channel, will broadcast the British Internationals Championships at The Cedar Court Hotel, Bradford, between March 24-26.
Ryan Scarratt, from Front Runner, said:  "Again we're offering coverage to another under-publicised sport."
Both darting events will be available in 19 million homes across the UK and Northern Ireland on Freeview, FreeSat, Talk Talk/BT and Sky.