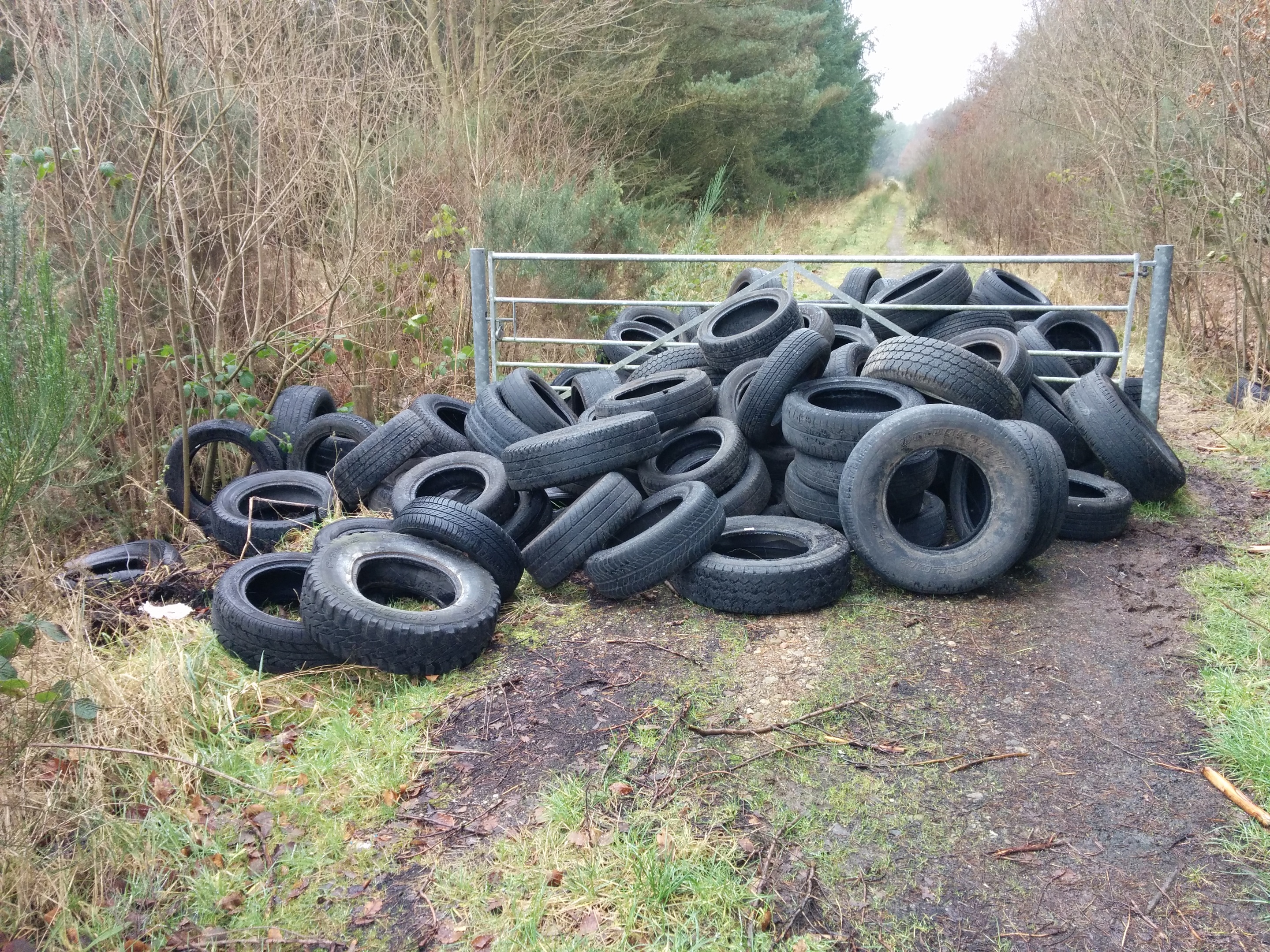 The selfish fly-tipping of 100 tyres at an ancient Angus forest has been branded "a disgusting deed".
The Forestry Commission Scotland and local politicians joined forces to condemn those responsible for the "disgraceful act" at Montreathmont.
The unsightly mess was left at the gate of the woodland site near Friockheim which is popular with dog walkers and wildlife enthusiasts.
Angus MP Mike Weir said: "This is a disgusting deed that goes beyond the realms of littering or fly-tipping, which is bad enough.
"It is highly unlikely that this could have been the action of a lone fly-tipper and the person or people responsible should be utterly ashamed of themselves.
"Given the fact that 100 tyres have been dumped, I would be surprised if this has gone unnoticed.
"Someone may have seen some unusual activity in the forest but thought nothing about it at the time.
"I would appeal to anyone with any information to call Police Scotland on 101."
The extensive swathe of forest is home to wildlife including owls, buzzards and endangered capercaillie.
The network of tracks through Montreathmont is used by walkers, mountain bikers and, in winter, husky racers.
Arbroath councillor Donald Morrison said: "I regularly walk my dog in Montreathmont Forest along with many many others.
"It is a quiet and beautful spot in Angus so am disgusted to hear about this disgraceful act.
"This is not just fly-tipping but fly-tipping on an industrial scale and couldn't have been carried out by one individual.
"The cost to the Forestry Commission will be huge to dispose of these tyres, when they should be using their budgets in managing and growing our forests throughout Angus and Scotland.
"I call on anyone who saw anyone acting suspiciously in the area to contact the police immediately."
Robin Lofthouse for Forest Enterprise Scotland said; "Fly-tipping is a common problem for us and it's very frustrating.
"This anti-social behaviour is illegal, is an eyesore and is bad for the environment.
"But clearing this sort of mess up is also a drain on our limited resources that would be far better spent elsewhere.
"Unfortunately, we can't be everywhere all the time, so we really need to have members of the public help us in tackling this issue.
"We would strongly urge anyone with information, or anyone to witnesses fly tipping taking place, to call the Dumb Dumper hotline on 08452 30 40 90.
"Passing on the details of where and when an incident is taking place – as well as a note of the vehicle registration – will help crack down on fly tipping."
Montreathmont Moor had a long history of woodland cover, as reflected in its inclusion in the Ancient Woodland Inventory (Scotland) and demonstrated by the diversity of flora and fauna it supports.
An Angus Council spokesman said: "We are aware of the matter and have been in contact with the landowner with a view to the tyres being removed.
"Anyone who sees incidents of fly-tipping or who has information about it can contact us directly online."