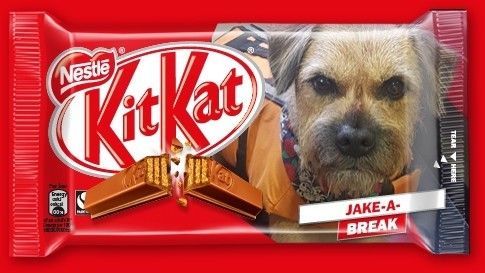 A generous internet bidder has snapped up a unique doggie biscuit celebrating Arbroath's famous harbour dog.
Terrier Jake has become something of a celebrity around the Angus marina through his devotion to duty in chasing away the seagulls and perimeter patrols with harbour assistant owner Carl Nielsen.
The four-year-old pet has found himself in big demand for selfies with visitors, some of whom come from as far afield as Glasgow just to meet the popular pooch.
He also became the face of a unique Jake-A-Break Kit Kat after Carl won the one-off wrapper in a competition run by makers Nestle.
He hoped to raise enough money to buy Jake a new lifejacket and give some cash to charity, but all of the £71 raised in the ebay auction will now be heading to the Dogs Trust after lifejacket manufacturers generously came up with new kit for the characterful canine.
Carl said: "Four companies have come forward offering new lifejackets, including one which specialises in tactical equipment which is making a custom one for Jake."
The new lifejackets will also have a first aid kit attached which could prove vital in the event of an emergency around the working harbour.
Carl continued: "The guy who won the auction, Steve Black from Fife even said he would like the Kit Kat to stay in Arbroath, but he won it fair and square so it's only right that he gets it and I've said he can come along and meet Jake when he picks it up.
"It's a real heartwarming story when there's so much bad news around these days, people love Jake and it's great that the companies have helped him out and all the money can go to charity."
Jake and Carl celebrated the auction success with fellow regulars at the Stag's Head in Carnoustie, where an after work sip or two of Guinness frequently leads to the terrier taking to the mike for a karaoke sing-a-long.