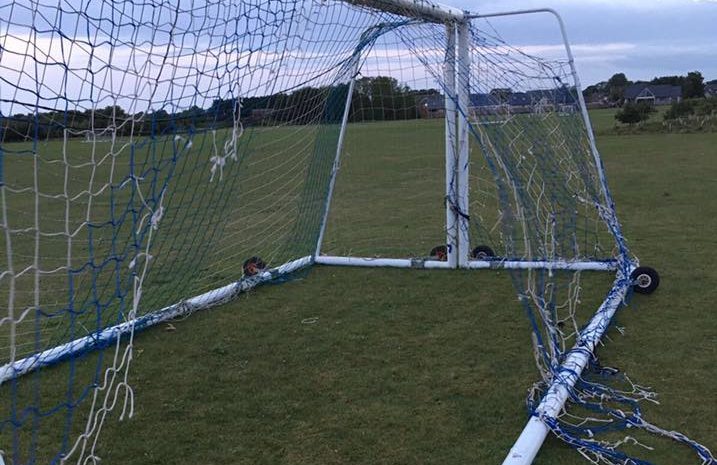 Vandalism to football pitches in Montrose has led to a successful fundraising campaign to install CCTV.
Kenny Park, which is the home of Montrose Youth Football Club, was targeted on Saturday evening with two goal nets being cut and a wheel attached to a goal also damaged.
The club, which operates under the umbrella of the Links Park Community Trust, has more than 300 youngsters in the area attached to four girls teams and nine boys teams.
Vandalism has also taken place at Montrose Roselea's neighbouring ground Broomfield Park in recent weeks.
Peter Davidson, who manages the Links Park Community Trust, described the latest vandalism incident as "disheartening".
He said: "I think with the summer nights there have been stuff happening and people have been using the pitches.
"As a charity we have no real problem with that because we want kids to be as active as possible but when they leave the equipment like this it's a bit disheartening.
"Two goal nets cut and a wheel on one of the seven a side goals has been damaged as well. They haven't treated the equipment with respect.
"As a community club who rely on fundraising we don't like to spend money needlessly.
"Some fencing has been damaged as well. "
Last weekend a hose used to water the pitch at Montrose Roselea was cut in the latest of "several trespassing incidents".
It led the junior football club to launch a fundraising campaign for £500 to install CCTV which it reached over a 24 hour period last week.
Roy Gill, secretary of Roselea, said: "The kids put the hoses on and made the pitch like a water slide on Sunday night and they slashed through the hoses to make it a spray.
"We've not really had long-standing issues with vandalism but after this incident we decided to fundraise for CCTV.
"We raised the £500 needed to install it in a day. We are hoping to position it so that it covers both grounds.
"It's disappointing that we've had to do it but we are very grateful for the support we've received from the community."
The CCTV system is going to be installed by local company Lock and Roll Security free of charge.
A police spokesman confirmed that an investigation to the vandalism was under way.