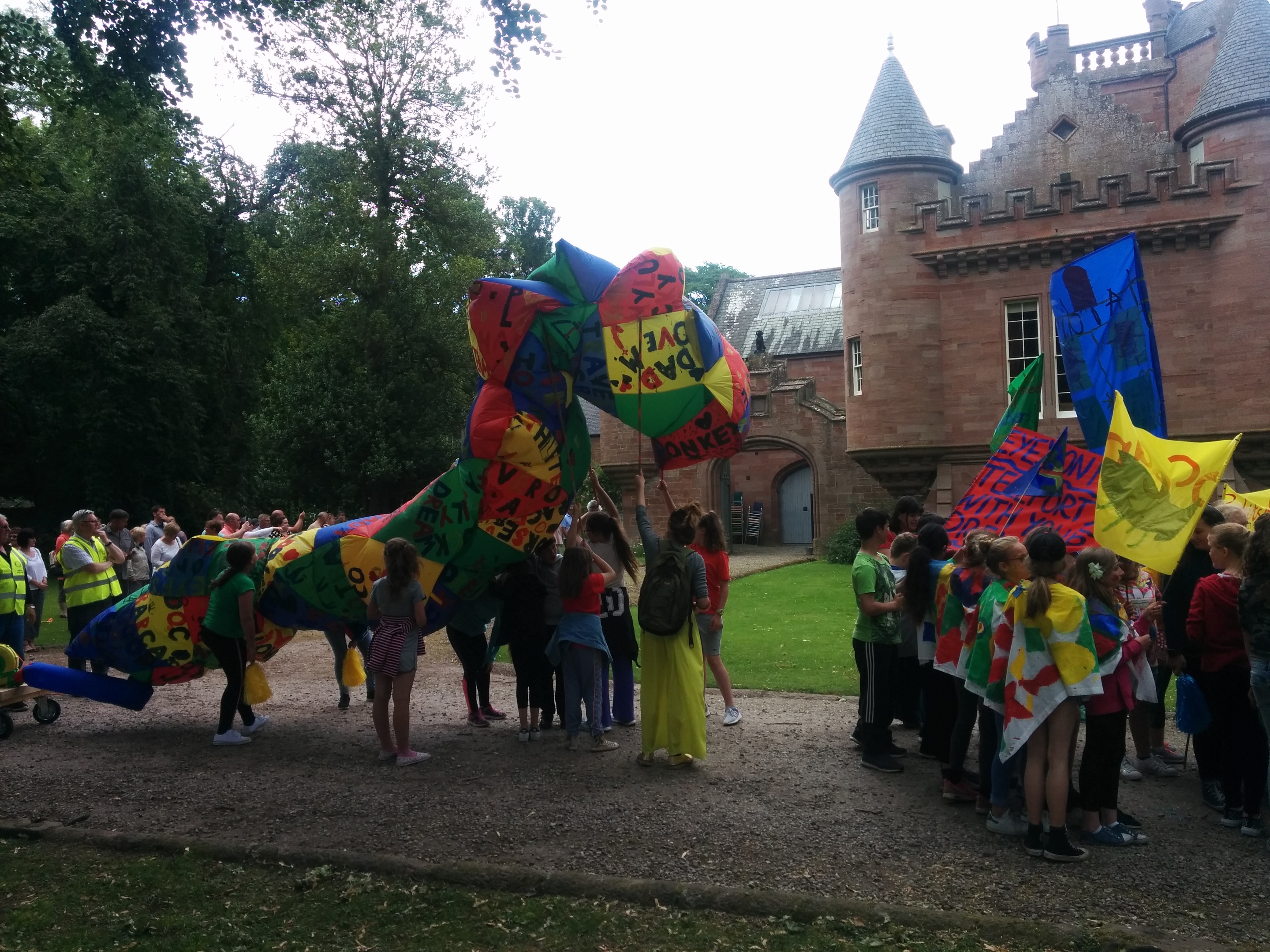 A "colourful, noisy, moving" procession featuring around 400 children in Arbroath launched a major Tayside arts festival.
Children from Timmergreens and Muirfield filled the streets as they walked from their primary schools to Hospitalfield House on Monday afternoon.
Artists Pester and Rossi (Ruby Pester and Nadia Rossi) worked with pupils to create a moving display which concluded at Hospitalfield and also marked some of the children moving up to secondary school next year.
Timmergreens head teacher, Jacqui Smith said: "The children at Timmergreens have really enjoyed working with Nadia and Ruby to create their costumes, props and performances.
"The children have worked hard on their props and we are very proud of them for being so enthusiastic and gaining the most from this experience. We are so excited to see it all coming together."
She described the parade as "an afternoon to remember for all our pupils, parents and local community".
Marching together.
Some of the colourful sights gathered at Arbroath's Hospitalfield House following this afternoon's parade. pic.twitter.com/atKobfkDfo

— Graeme Strachan (@C_GStrachan) June 19, 2017
The procession launched a four-week festival which will feature a variety of art, food, heritage and music events.
Pester and Rossi are a collaborative artist duo who have been working together for six years producing performance projects across Scotland and beyond.
Both graduated from Duncan of Jordanstone College of Art and Design in Dundee in 2008, receiving degrees in Fine Art and Time Based Art and are currently living in Glasgow based at Crownpoint Studios.
Hospitalfield's summer festival will continue with an open weekend on June 24 and 25 which will include a new sculptural commission by artist Simon Bedwell.
Between June 28 and 30, around 70 artists, curators and students will be staying at Hospitalfield to take part in a summer school programmed with Cicely Farrer and Gordon Douglas.
On Saturday July 1 there will be an event to mark the return of a newly renovated Erard Grecian Harp which will include talks and performances by scholar Simon Chadwick and esteemed concert harpist Sharron Griffiths.
This is followed by a Berries and Beer Gardens Open Day on July 8.
Heritage tours of the house will run every Wednesday.