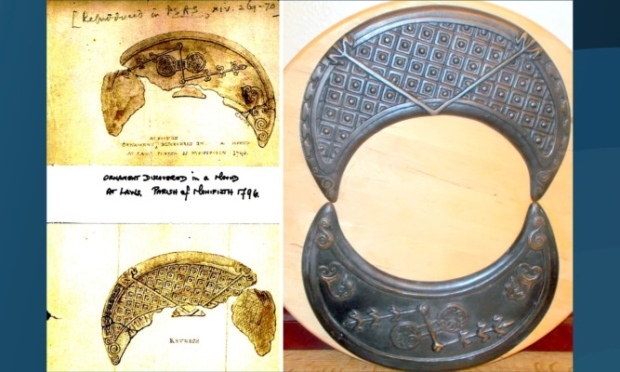 A bronze replica of an ornament believed to date back to Pictish times will go on display in Tayside.
Next week Monifieth Local History Society will exhibit the crescent-shaped plate, which was recreated with the help of a drawing.
Records show the original was found in 1796 by farm labourers who were digging at Laws Farm in Monifieth, but it was damaged by a spade.
Margaret Copland, president of Monifieth Local History Society, said: "The tenant farmer at this time was Peter Roger, who leased the property and land from Sir Alexander Ramsay Irvine of Balmain.
"The ornament had unfortunately been broken by a spade of the labourers excavating the drain, and was said to have been handed over to the land owner.
"In February, Monifieth Local History Society became the custodians of an enlarged replica of the bronze crescent, moulded by Roddy Mathieson."
A letter written by James Cruikshank Roger, Peter Roger's grandson, explains that his father made a drawing of the crescent, which was subsequently lost for a long time.
The letter, addressed to a Mr Anderson of the Antiquaries Society, stated: "My father mentioned to me incidentally that, when a very young man residing on his father's farm of Laws, in the parish of Monifieth, he had made a drawing of a bronze ornament found in a large mound, which had been intersected by a newly formed drain.
"Within this tumulus, as I understood him to say, surrounded with a cist formed of stone slabs, was a complete skeleton, but how placed I do not recollect, also some implements of bone, the form and character of which I do not remember, although I do distinctly recollect his description of the ornament.
"This he represented as formed in the likeness of a crescent, and engraved on both sides with other symbols frequently met with on Scottish sculptured stones.
"This drawing had been mislaid for years, but my father had no doubt of its existence, and promised to search for it on his return home, which he did, but without effect.
"In searching through his paper after death in 1865, I found the drawing inside an old letter, which I presumed it had been accidentally folded.
"On one side is the spectacle and Z symbol, with the head and neck of some animal, to which I will give no name. The reverse side is engraved with a species of ornament similar in character to that met with on a seal of Holyrood Abbey, appended to a charter of the year 1141."
The crescent replica will be on display along with the replica Monifieth Stone Cross, sculpted by David McGovern, at a talk called Monifieth's Pictish Connection by Margaret Copland, on Wednesday at 2pm, in Monifieth Community Cabin, South Union Street.