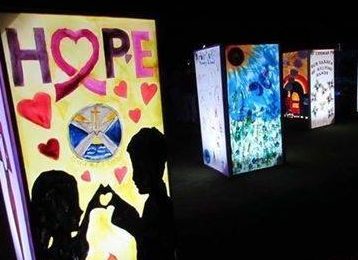 Angus survivors will take to the catwalk to show "there is life after cancer".
The Arbroath Relay for Life committee is organising a fashion show with a difference to raise more funds for Cancer Research UK.
Catwalk for a Cure will take place at 2pm on Sunday October 15 at Carnoustie Golf Hotel.
Local people will be modelling clothing supplied by several local retailers and the event will include a prosecco reception and afternoon tea with live entertainment and a raffle.
Participant Lynn Macfarlane said: "I was a bit nervous at first if I am honest as I am not really the 'catwalk' type.
"But I am looking forward to it although I know I will still be nervous as I have never done anything like this before.
"I am taking part because it is an excellent opportunity to highlight to people that there is life after cancer and that the survivors are normal people too."
Karen Dickson said she thought it was a great idea as it shows people who have been diagnosed with cancer "that there is light at the end of the tunnel".
She said: "It was an easy decision for me to take part in the show as it's all for a great cause.
"I want to show the women who have had mastectomy that there is some gorgeous underwear out there now and how this has changed over the years.
"When I was first diagnosed in 2008 the bras available were horrible and old fashioned but now there's a wide range available locally."
Fellow model Jackie Noble described the fashion show as a "fantastic idea" and agreeing to take part was "a very easy decision".
She said: "Anything that raises awareness and funds for Cancer Research is a great idea.
"I'm looking forward to it although I must admit I'm a little nervous as I have never done anything like this before."
Morna Leslie will also be modelling for the first time despite admitting to being "anxious".
She said: "I know my friends and family will fully support me as they have throughout my cancer journey.
"I think it is a great way to raise money for Cancer Research UK and having survivors as models gives everyone a boost and a chance to show their courage."
Tickets are available from Lynn Cameron at LynnCameron540@hotmail.com or Hazel Ogilvie at hazelogilvie2013@hotmail.com.
Tickets must be booked in advance with early reservation recommended as bookings will be dealt with on a first come first served basis.