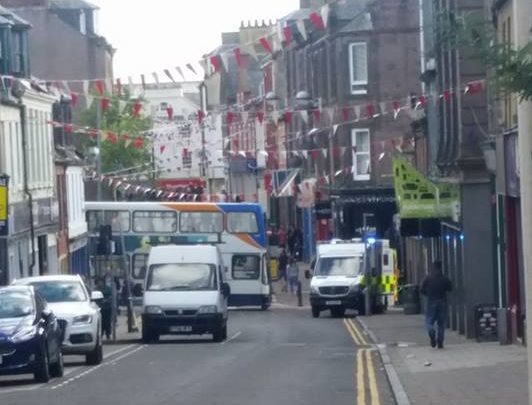 A cyclist has been rushed to hospital on Friday afternoon after an accident with a bus in Arbroath High Street.
The accident happened at around 1.45pm at the junction of High Street and Lordburn.
Rachel, a worker at Brown's Pet Shop, said she heard a thud and ran out to investigate.
She said: "The first thing I thought of when I heard the thud was the small boy who was killed on the High Street years ago.
"I rushed out to the street and I honestly thought the worst.
"I didn't see the actual accident but luckily it doesn't seem to have been too bad.
"I made the bus driver a cup of tea afterwards. He was in a bit of shock at what happened."
Rachel's colleague Nicki added that she doesn't believe the cyclists injuries are "too serious" after seeing him walk into the ambulance.
A Police Scotland spokeswoman confirmed the accident.
She said: "We attended an incident at 1.45pm on Arbroath High Street on Friday in which a cyclist collided with a bus.
"The cyclist was taken to Ninewells Hospital, Dundee, but his injuries do not appear to be life threatening.
"The road was reopened by 3pm."