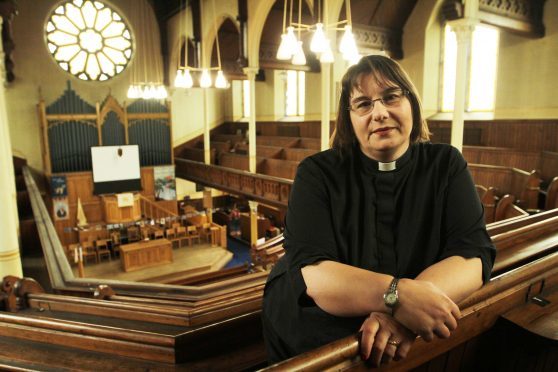 The minister of a crisis-threatened Forfar church says the Kirk may have to "walk away" if permission is not granted to demolish its crumbling building.
St Margaret's Church is facing repair bills of around £500,000 due to severe rot and water leaks on top of hefty running costs due to problems with the heating system.
The church submitted plans to knock down the 137-year-old building and replace it with a "21st century community facility" featuring a cafe, multipurpose hall, kitchen, vestry, an oratory and an office.
The plan was knocked-back, with Angus Council stating its demolition would have a "significant detrimental impact" on the character and appearance of Forfar Conservation Area.
With its future now in doubt, the church minister Reverend Maggie Hunt has vowed to carry on the fight and appeal the decision.
She said: "We have come too far to give up now. We have put a lot of money into this for many years.
"There comes a point where we will have to walk away though. If we aren't allowed to demolish it and we can't get the money to patch it up then what options are we left with?
"If we are given permission to build a new church then we would be able to apply for funding from various sources such as SportScotland, Comic Relief, Children in Need and the Big Lottery Fund.
"As it stands, since it isn't a listed building, we aren't entitled to apply for lottery funding to fix all the problems so it will be difficult to find the money.
"To repair it, we're looking at around £500,000 and to renovate it and make it more modern is probably another £1 million."
The minister said that she understands planning chiefs are required to stick to the council's planning policy.
But she pointed to widespread support for the plans by the local community — 154 letters of support were received when the church held a public consultation showcasing the grand designs.
It is currently used by around 100 people once a week but it is predicted many more locals would make use of the new facility.
She added: "There are very few planning applications which can show that much support. It's unheard of.
"People in Forfar recognise that to have a community facility on West High Street would be a great boon for the town.
"It won't just be for Christians. Anyone will be able to use the facilities. We think it's a no-brainer."