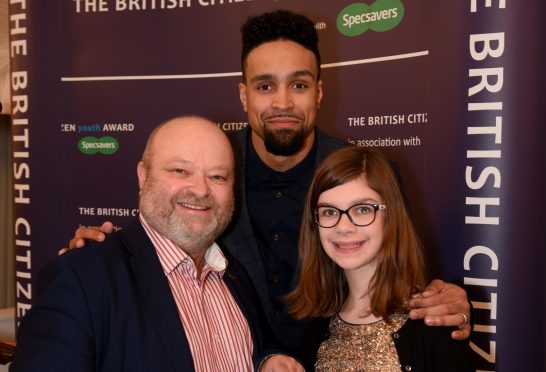 A 14-year-old girl from Angus has been given a national award for her charitable work in the community and abroad.
Webster's High School pupil Emily Lindley was given the prestigious British Citizen Youth Award at a recent ceremony at the Palace of Westminster in recognition of her "outstanding" efforts.
The Glamis youngster has spent almost a third of her life fundraising for a struggling orphanage in Kenya.
She has also worked with a local residential care home for 18 months with her family pet Spencer, improving the quality of life for  residents .
The third year pupil was presented the award by Ashley Banjo, creative director, choreographer and lead dancer of Diversity and James Cathcart, Youth Voice Campaigner.
She was also greeted by Angus Conservative MP Kirstene Hair, who hailed her achievements.
Ms Hair said: "The British Citizen Awards recognise the biggest hearted and hardest working people in our midst.
"Emily's dog therapy has delighted older people in her community, and she has shown a fantastic rapport with those with affected by dementia.
"This follows years of fundraising for the Nyahera orphanage in Kenya. Her nomination for the award, at only 14 years old, is richly deserved."
The former Glamis Primary School pupil has raised several thousand pounds through a variety of activities including coffee mornings, bring and buy sales, sponsored walks and selling bracelets made by the Nyahera community she is helping in Kenya.
She was inspired to get involved at the age of just nine when a teacher at her school gave a talk about the orphans in Kenya needing money for a daily meal and for footwear to prevent footrot.
Emily and her group of nominees were treated to a reception at College Green outside Parliament and taken around the city of London on an open-top bus.
Emily's mother, Fiona, said the family had been "humbled"to learn of all the medallists' achievements at Westminster.
"It was great that Emily was recognised for her positive contribution to her chosen cause which she has been supporting for nearly five years," said Fiona.
"She has a genuine commitment to improving the lives of others.
"She also gets great satisfaction from the delight Spencer the dog gives the residents in the care home where she visits with him."
The award pays tribute to Emily's insight into dementia, "which makes patients very comfortable in her company."
The commendation adds: "She shows respect and laughs with them … building a very good rapport.
"Emily continues to put in the hard work required to make each event she undertakes to raise money or awareness successful.
"The community has benefited greatly from Emily's coffee mornings.
"Her village and farming community welcome the opportunities to socialise, helping make her events a success."