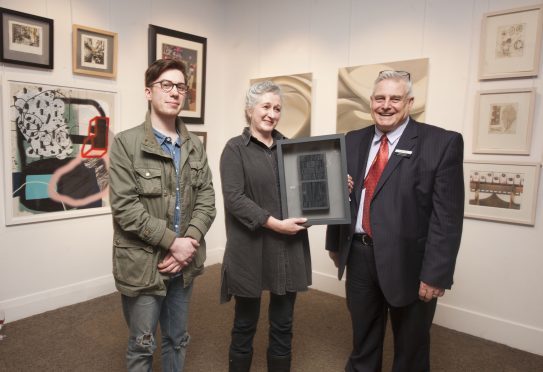 An annual showcase of the cream of Scottish artistic talent has gone on display at an Angus landmark.
The Meffan Museum and Art Gallery winter exhibition 2017 is open from now until December 30 and features a host of works submitted  by professional and amateur artists from across the country.
ANGUSalive, the culture, sport and leisure charitable trust for the county, announced this year's winning entries at an open evening reception on Friday.
The £1,500 purchase prizes for professional artists went to Rodger Insh, Anna S King, Bill Taylor and Sigrid Shone.
The Colin Dakers Memorial Purchase Prize of £1,000 was won by Julia Gardener for her Slate Study.
A public vote to select the winning work by an amateur artist is still open. The winner will be announced December 19.
The annual exhibition at the Meffan, in Forfar, invites professional and non-professional artists who are resident in Scotland to showcase their work, with a chance to have their entry purchased for the Angus Council art collection.
This year, the judging panel for the purchase prize included two 2016 prize winners; Allan Watson and Julia Gardiner, as well as visual arts officer, Gill Ross.
Ms Ross said the team were were struck by the variety and quality of the artwork on display.
"We chose the work, not based on our personal tastes, but looking at what artwork we'd like for the people of Angus to enjoy for generations to come," she said.
"For the purchase prize winners, we chose Forth by Bill Taylor for its abstract quality that echoes the sense of space and distance one experiences on the beaches of Angus.
"Thirty Six Winds by Anna King is unlike anything in the Angus art collection and we loved the tactile and poetic nature of this piece.
"Farm Buildings Kinnel, Angus by Rodger Insh is an inventive composition contrasting old and new in his jewel like painting which transforms the stillness of everyday life into something magical.
"In Seagull III Sigrid Shone has meticulously captured the movement and characteristics of this iconic bird in her monochromatic screen print."
She said there was something to suit everyone in this year's exciting line-up and urged local art lovers to visit the museum during the exhibition's run.