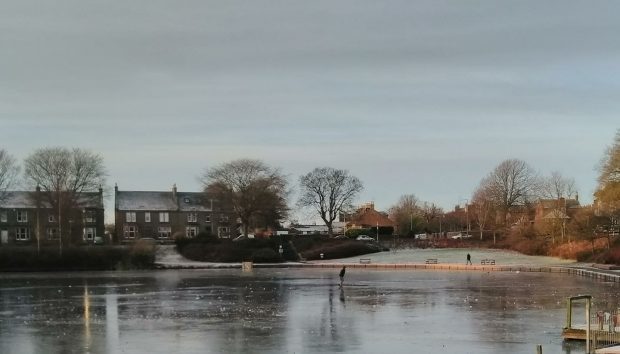 Police have warned people to stay off the ice if an "unsafe" Angus beauty spot freezes over again.
Tayside Division received calls about youths and adults on Keptie Pond in Arbroath during the recent cold snap.
A spokesman said stretches of frozen water were unsafe and urged people to take great care and "resist the temptation to use them as areas of play".
Sergeant Steve Campbell said he asked for the warning to be circulated due to numerous calls of concern from the public and residents including the community group Friends of Keptie Pond.
He said: "Please take note. The ice is thawing and the pond is a danger to play on. Heed this warning."
Keptie Friends volunteer George Park said sometimes youngsters fail to recognise water does not have to be deep to kill.
He said: "The pond is not deep but there are some areas which are treacherous underfoot due to years of decomposing vegetation.
"I have no record of any fatalities at Keptie Pond but I can recall many near misses.
"We didn't take advice from our elders when we were young and I suspect the youngsters of today will be no different."
There have been several reports of youths playing on the surface in recent days after a prolonged cold snap allowed a layer of ice to form.
Arbroath East and Lunan Conservative councillor Derek Wann said: "Everyone should know or be aware of the dangers of playing on ice on frozen ponds.
"I would urge parents and the schools to educate their children on this. Please be safe near the water and don't do anything silly."
Police were forced to issue a similar safety warning following reports of youngsters playing on Forfar Loch at the weekend.
With further wintry weather set to sweep across the country, The Royal Life Saving Society UK is urging the public to be aware of the dangers freezing conditions can pose.