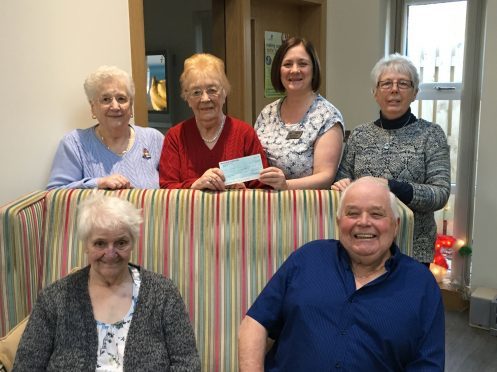 After more than half a century of providing weekly enjoyment for villagers, Ferryden Lunch Club has served up one final treat to the local community.
Dwindling numbers and rising costs have forced the club to call it a day, but the dedication of hard-working volunteers who have kept the organisation running across the decades has seen more than £4,500 handed to the Adam Centre in Montrose to support the work of the busy day care facility.
Lunch club president Irena Brown led the handover of the donation and said that while it was a sad day for the lunch club, many who used it and are now regulars at the Adam Centre would be able to benefit from the money.
"The lunch club has probably been going for about 50 years so it's sad to see it come to an end," said Mrs Brown, who has been president of the club for the past 22 years.
"It wasn't a drop-in, people were asked if they wanted to attend every Wednesday and we had as many as 24 each week.
"The numbers just continued to drop and we were down to around seven people so it was very hard to cover the expenses," she added.
"It's a community room in the school that we used to get for free, but then had to pay for that and we then had to pay the mileage for the Montrose Academy minibus, sometimes for only a few people.
"There were times when we couldn't get the bus and had to get taxis to get people to and from the lunch club."
"We paid the council for their lunch, but we did a lot of fundraising and were completely self-sufficient," continued 82-year-old Mrs Brown.
"It also wasn't just a weekly lunch, we had a Christmas dinner, a whole day bus run every year, music and guest speakers.
"All of that went on, but unfortunately the numbers just couldn't sustain it and we decided at the end of September that we were going to close it.
"It took quite a lot to keep the lunch club running, but people enjoyed it and we would just like to say a thank you to everyone for supporting us. Sadly we just had to take the bull by the horns and make the decision to close."
The £4,543 from the lunch club will help fund a replacement minibus for the Adam Centre.