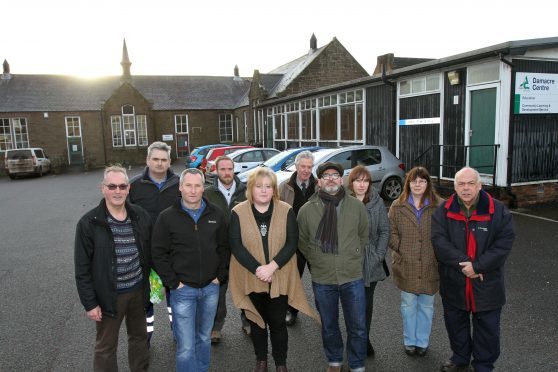 Brechin residents have hit out at Angus Council's plans to demolish a historic building and replace it with affordable housing.
Councillors will be asked to approve the plans to demolish the Damacre Centre in Brechin at a meeting of the development standards committee on January 4.
The community centre was closed in early 2016, after Brechin Community Campus opened and has been deemed to be surplus to requirements by Angus Council.
Mark Arbuthnott, who runs the Mudanshakai Judo Club, claimed he was one of many groups who were made "homeless" after being "priced out" of going to the community campus.
He is appalled at the prospect of the Damacre Centre being demolished.
"A lot of Brechiners think it's crazy to demolish one of the best buildings in Brechin especially when it forms part of our heritage," he said.
"The building used to be a school and was where Robert Watson-Watt and David Waterson were educated – the two most famous sons of Brechin.
"This building is in extremely good condition and certainly doesn't need to be demolished."
A sign at the Damacre Centre warns that the car park will be closed from January 8 as "demolition works are due to start".
Mr Arbuthnott, who is also an active member of the Brechin Community Cinema Project, said Damacre Road was among the most congested in the town and that the development would compound this problem.
He added: "It seems to me that Angus Council apply very strict planning requirements on certain organisations but when it comes to themselves they think they can just come along and knock down part of our heritage without any form of meaningful consultation.
"We don't have any issues with affordable housing. We understand there's a need for it. But this is an example of a plan that's been executed badly by people who don't know Brechin."
City of Brechin Community Council has also objected to the proposal along with 18 other people in the town.
Convener Jill Scott said: "If they want to build affordable houses why don't they knock down St Drostans care home.
"It's a wreck that's been sitting there for six years – trees are growing out of the roof, the roof is separating from the building, there are cracks running down the gable end… no, that's going to be sold on the open market.
"Why don't they sell the Damacre Centre to a developer to make into housing? Why demolish it? It's one of the nicest buildings in Brechin. There is real anger locally about this."
Angus Council hopes to create 10 affordable homes – two two-bedrooms, seven three-bedrooms and one four-bedroom drewllings – on the site.
In his report to councillors, the council's head of housing, regulatory and protective services Stewart Ball said the building was of "no significant architectural or historic interest" that Historic Environment Scotland had previously determined as not worth of being listed.
He noted that pre-application consultation with communities was required for developments of 50 units or more or where the site exceeds two hectares.
"In this case the proposal falls significantly below both thresholds," he added.