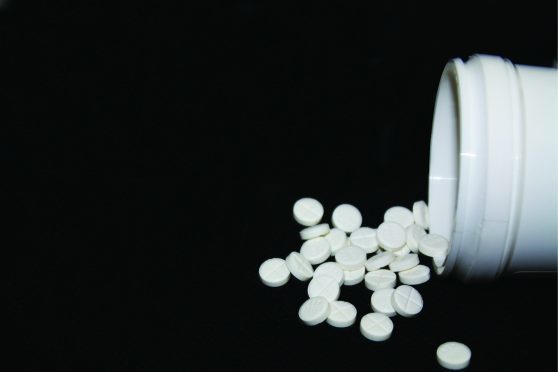 A "complex" set of issues has been blamed for Angus being labelled the "sick man of Scotland."
An aging population and a high percentage of people living with chronic disease were among the reasons put forward during talks on the area's above average prescribing costs.
Members of the Angus Integration Joint Board (IJB) in Forfar were told prescribing is forecast to hit a £2.5 million overspend this year –  more than 10% of the total budget figure of £21m.
The Tayside health and social care partnerships currently budget £80m annually for family health services (FHS) prescribing and NHS Tayside a further £40m for secondary care prescribing.
However, Tayside's FHS prescribing costs have historically been above the Scottish average, resulting in annual overspends in recent years and making it one of the main drivers behind the health board's current financial woes.
Addressing the meeting, Alison Clement, clinical director, admitted Angus prescription costs were "significantly greater" than those for the rest of Scotland, at 13% above the national average spend.
The report said the reasons for the higher FHS prescribing spend in Tayside, and in Angus in particular, were complex, multi-faceted and not entirely understood.
Board member Alison Rogers, a non-executive board member with NHS Tayside, questioned why the reasons were still "not entirely understood."
She said there had been an overspend in Angus since the days of the community health partnerships (CHP) adding: "I remember receiving reports and there was always an overspend.
"Why are we not any nearer in understanding this?"
Ms Clement replied that the reasons were "incredibly complex."
She said: "We are understanding some of it. We are diagnosing more illnesses, there is a better detection rates and recognition of more chronic conditions.
"There is not one thing the same across Angus when we look at GP practices.
"Not every practice in Angus is doing the same thing but we are looking at the overspend."
She explained Angus had a very high elderly population adding: "It is incredibly complex, there is not one answer and it is very difficult to put it into simple terms."
Asked how costs could be curbed, Ms Clement said: "We are particularly interested in the amount of prescriptions  we are issuing. It is coming down, but at the same time the cost of medicine is going up considerably, which has affected Angus. Because it is a complex problem there will be a set of solutions."
IJB chairman Hugh Robertson referred to a story about the issue in The Courier, which described Angus as the "sick man of Scotland".
He said: "We did get some press coverage. I am concerned that the costs are high. There continues to be concerns on the committees I sit on over the prescribing costs.
"I note that it will be about six months before we start to see initiatives put in place and I hope to see financial benefit within the three-year target."