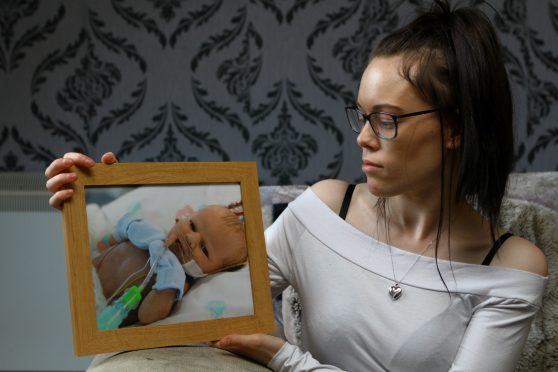 An Angus mum has bravely opened up about the devastation of losing her five-week-old son to meningitis in a bid to raise awareness of the condition.
Maria Strachan, from Forfar, became unwell toward the end of her pregnancy, suffering from high temperatures, sickness and contractions.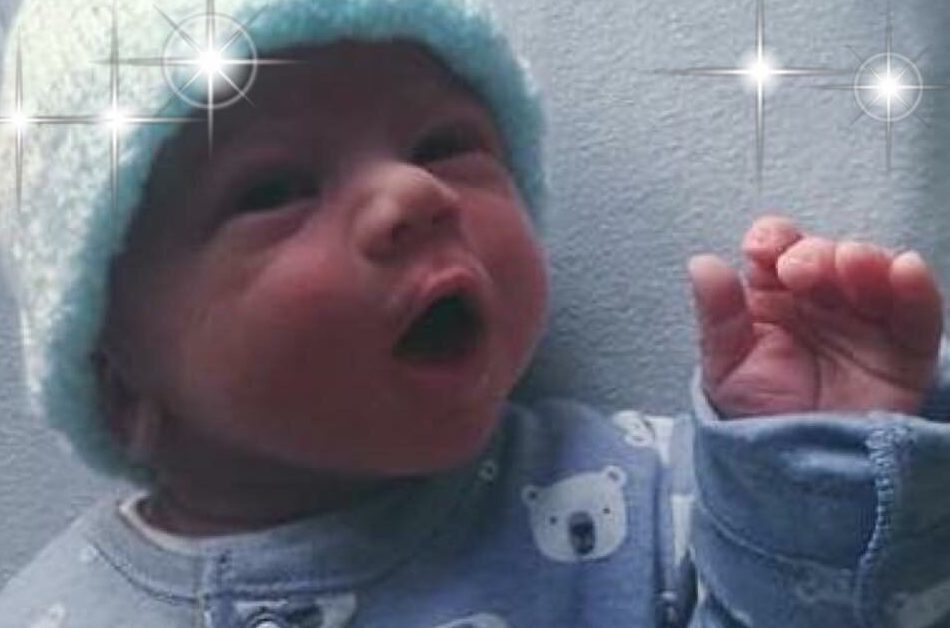 Her condition led the 25-year-old to be induced three weeks before her due date at the maternity unit at Ninewells Hospital.
Initially Ethan appeared healthy when he was born in the morning of April 8 last year.
But just a few hours later, while being changed, Maria noticed her newborn was breathing strangely and rapidly.
She immediately told a nurse and Ethan was rushed to the intensive care unit at Ninewells.
"Eventually we got a call that we could go and see Ethan," said Maria.
"He was in an incubator and had been stripped down with a feeding tube in his mouth. As the days went by our little boy didn't seem to get much better.
"Little did we know this was just the start of our nightmare."
Doctors initially thought Ethan had an infection but when he didn't improve after a couple of days he underwent further tests.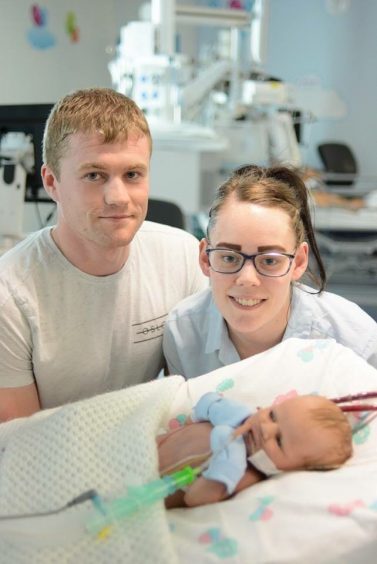 It was then they discovered he had viral meningitis that had attacked his heart muscle. It meant his heart was unable to work properly and he was unable to breathe for himself.
He was transferred to Glasgow's Royal Hospital for Children where he was sedated and given a 50/50 chance of survival.
"I was devastated that my illness during pregnancy had resulted in Ethan contracting viral meningitis, which had spread through his body and heart," said Maria.
"Consultants explained that Ethan was extremely sick and that his heart wasn't pumping the way it should be, so they put him on a life support machine. We were warned to expect the worse."
Ethan fought on and had some good and some bad days during a three-week stay in the hospital but then contracted another infection in hospital and started to deteriorate quickly.
Maria and her partner James Mortimer, who have two other children, were given the agonising choice of whether to send Ethan to Newcastle for a heart transplant or take him off life support and letting him die in peace.
"It would have been very, very unlikely there would be a heart his size for such a tiny sick baby like Ethan, and even if there was they didn't think he would survive the operation," Maria said.
"We decided that as heart breaking as it was, the best thing for our little boy was to let him rest in peace in his mummy and daddy's arms, and take the pain that he had been suffering for five weeks away from him.
"The consultant injected Ethan with pain relief and then removed his life support."
Maria said she wanted to share her story to raise awareness of meningitis and support the work of the charity Meningitis Now which funds research into vaccines and prevention.
"Something needs to be done to support parents with a loss from meningitis and more awareness is needed," she said.
"I also want mothers to trust their instincts as I had a sense that something wasn't right when I was pregnant but my concerns were brushed aside."
Signs and symptoms of meningitis in children and adults
Leading meningitis charity Meningitis Now advises that meningitis and septicaemia often happen together so it is important to be aware of all the signs and symptoms.
People should not wait for a rash to appear, as by that stage it could be too late.
Someone with meningitis or septicaemia can get a lot worse very quickly.
Symptoms can appear in any order or may not appear at all.
Things to look out for include:
A fever with cold hands and feet
Fretful behaviour and a dislike of being handled
Rapid breathing or grunting
An unusual cry or moaning
A stiff neck
A dislike of bright lights
Refusing food and vomiting
Becoming drowsy, floppy or unresponsive
Developing pale, blotchy skin, spots or a rash
A tense, bulging fontanelle (soft spot)
Suffering from convulsions and/or seizures.