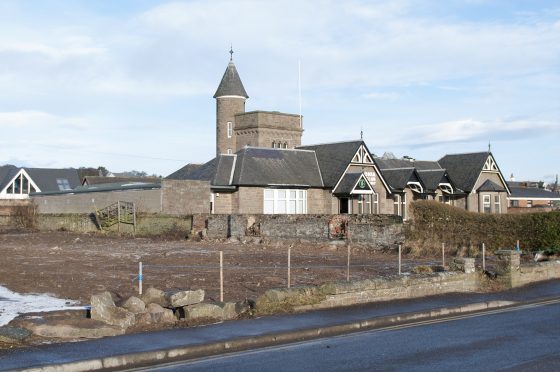 An eyesore piece of land in Carnoustie could tarnish the town's reputation as the eyes of the world focus on it during this summer's Open golf championship, it has been claimed.
Carnoustie councillor David Cheape hit out after Angus Council received a complaint about the "untidy" state of the former Links Hotel site in Links Parade and its impact on nearby properties.
The Bancon Group was given planning permission to build a block of eight flats on the land in June 2015 but the company says it sold the site soon after and is no longer responsible for it.
Documents seen by The Courier show the land – now a muddy patch partly surrounded by an incomplete brick wall – is currently owned by Provincial Property Holding Limited (PPH Ltd), a company registered in the Virgin Islands.
Independent councillor Mr Cheape said he had dealt with a number of complaints about the site and called on the local authority to investigate what action it can take to force the owner to clear it up.
"I am concerned that this land, which is important to the town given its location, has been vacant for so long," he said.
"Who knows why the owners are sitting on it and why they aren't doing anything with it.
"I think the council will take an interest in doing something about it. It will be seen by millions of people when the Open comes to Carnoustie.
"But we can only do so much as it is private land."
PPH Ltd did not respond to a request for a comment by time of going to print.
However, an Angus Council spokesman said: "Concerns raised locally in relation to the condition of the area have been investigated by council officers and no formal enforcement action is currently proposed.
"Planning permission was granted in June 2015, subject to conditions, for the development of eight flats on the site.
"As per regulations, permission for development of the land remains valid for three years.
"The developer has responsibility for the condition and maintenance of the site."