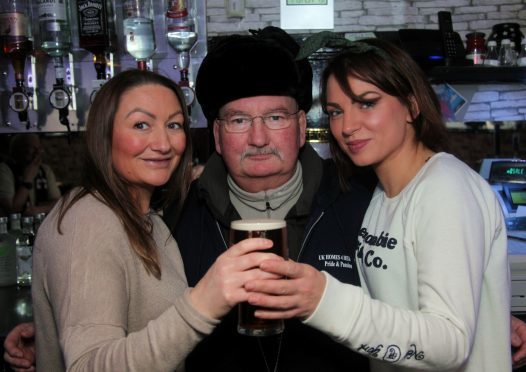 A terminally-ill former Royal Marine from Arbroath has had a beer named after him as he faces his toughest fight yet.
Stuart Lavery, chairman of 45 Commando Veterans, who served in combat zones across the world including Northern Ireland at the height of the Troubles, is now battling bone cancer.
Mr Lavery's daughter Simone runs the Anchor Bar in Arbroath's West Port and arranged the surprise beer, which has been proving an extremely-popular tipple.
Both the Lavery's beer and lager are now on sale priced at £2.60 with 20p from every sale going directly into the 45 Commando Veterans charity collection shaker for good causes.
Mr Lavery, who has been undergoing chemotherapy at Ninewells Hospital, said it was a fantastic gesture which has lifted his spirits.
He said: "It's a terminal diagnosis but I actually feel great.
"The treatment does leave me feeling very weak but I just take it day by day. I think Simone's gesture was fantastic and it's really given me something to look forward to.
"In the past two years our association has raised around £15,000 for good causes and 20p from every pint will top up our fund. The beer also tastes great and it's good to know that some of the money will benefit others."
Simone said: "When dad was diagnosed with cancer earlier last year and physically unable to continue the fundraising efforts of previous months, we set about hatching this idea.
"The 45 Veterans Association have helped so many with their relentless efforts that we wanted to do our bit to help keep them ticking along whilst the big man concentrated on getting well again.
"So far, we've sold four kegs of each since the products started pouring. There are 88 pints in a keg so that's a lot of thirsty veterans.
"We have an incredible link with current and former tri-service personnel here at the Anchor."
The beer and lager has been supplied by Belhaven Breweries and Simone said Fraser Maxwell was a big help in getting the products installed in the pub.
Pints of Lavery were on show for the first time during the Anchor Bar breakfast club which is held every third Saturday and is open to all current and former members of the armed forces and emergency services.
Mr Lavery is an extremely well-known figure in Arbroath and he also previously protected King Arthur's Knights of the Round Table.
He worked as a security guard on the Isle of Skye during filming of Guy Ritchie's movie King Arthur which starred Jude Law, Eric Bana and Charlie Hunnam.