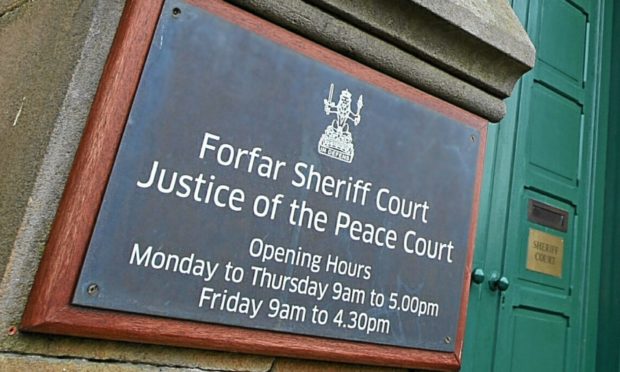 A court has heard how an "idiot" Christmas Eve Angus driver had a head-on smash after exiting a roundabout the wrong way when he was almost five times the legal drink-drive limit
Kieran Kirkwood initially told police: "Yeah, I lost it", but also tried to blamed the accident on the other driver before the full extent of his intoxication became clear in the custody suite after he had been taken to hospital to be checked over following the crash.
Occupants in the vehicle Kirkwood hit near the Forfar bypass suffered injuries including whiplash and a broken finger, but a sheriff told the 21-year-old he was very lucky no-one had been more badly injured.
Kirkwood, of Elm Road, Kirriemuir, appeared before Sheriff Linda Smith at Forfar, where he admitted driving on the A926 on December 24 with an alcohol reading of 103 microgrammes, against a legal limit of 22.
He also pleaded guilty to driving carelessly on the same date, exiting a roundabout on the opposing carriageway and colliding with another car, whereby both vehicles were damaged and the occupants of the other car were injured.
Depute fiscal Bill Kermode said the incident happened around 5.15pm when witnesses in another vehicle were heading to Forfar, slowed for the roundabout on the A926 and found Kirkwood heading towards them.
The other driver tried to get out of the way but could not avoid the head-on impact.
Defence solicitor Brian Bell said roofer Kirkwood would keep his job, but the loss of his licence would cause difficulties in getting to work.
"He has described his actions as stupid and that is probably as good a description as any," said the solicitor.
"He has also told me he felt like he acted like an idiot that night and not many would disagree with that.
"He can't explain properly why he decided to drive the car when he was nearly five times the limit, and he recognises he placed himself, and more importantly others, in danger.
"To his credit he fully co-operated with police at the time and has pleaded guilty to this at the earliest opportunity."
Sheriff Linda Smith told Kirkwood: "You seem to have some insight into the foolishness of this.
"You are lucky that nobody was more seriously injured than they were."
Kirkwood was given a Community Payback Order including 95 hours unpaid work and banned from driving for 16 months.