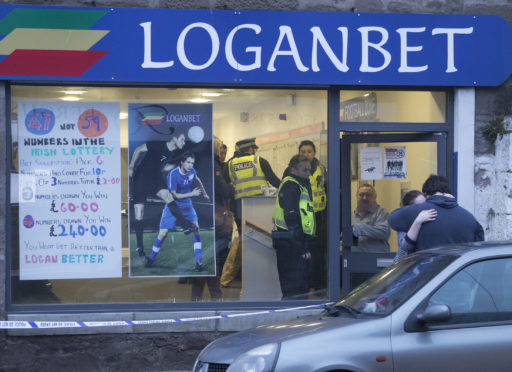 A knife-wielding would-be robber remains at large after an attempted raid on an Angus bookmakers just a short distance from the town's police station.
The man fled empty-handed from the Loganbet premises on Brechin's Clerk Street on Friday afternoon, sparking a high-level emergency response.
However, despite a detailed description of a suspect who was said to be covering his face with a Rangers Football Club scarf and wearing tinted glasses, police are yet to track him down.
The drama unfolded around 3pm in the shop on the main street through Brechin, with a number of customers in the bookie's at the time.
Shop manager Eddie Nutten spoke of his shock when the "smiling" knifeman presented a blade at the counter.
The 62-year-old, who has managed the shop for six years, was working alongside a female staff member when the incident happened.
Mr Nutten said the man spent a few minutes in the shop before walking to the counter.
"I thought he was going to put on a coupon," he said.
The man's scarf was covering his face but he pulled it down to make the demand for cash.
"I saw a smile and he said 'give me your money'. I thought he was joking and then he pulled the knife out.
"He was wearing the scarf but pulled it down to ask for the money. I told him to get out and he didn't wait around," added Mr Nutten.
The man escaped through the shop's side door into the car park of the adjacent Stables Lounge.
The Loganbet premises is only around 100 yards from the town police office in the same street.
Police dogs were brought in to hunt for the suspect and the shop remained closed on Friday whilst scene of crime officers swept the premises for clues. CCTV is also thought to have been examined as part of the investigation.
Police said the man they are looking to trace is around five feet 11 inches tall and as well as the football scarf also had on a dark-coloured tammy and yellow-tinted spectacles.
He was also wearing grey skinny-style trousers and dark shoes.
Shop customers were interviewed as part of the investigation but police have renewed their appeal for witnesses and said they would be keen to speak to anyone in the vicinity at the time.
Information can be passed to Police Scotland on 101, or anonymously via Crimestoppers on 0800 555 111.