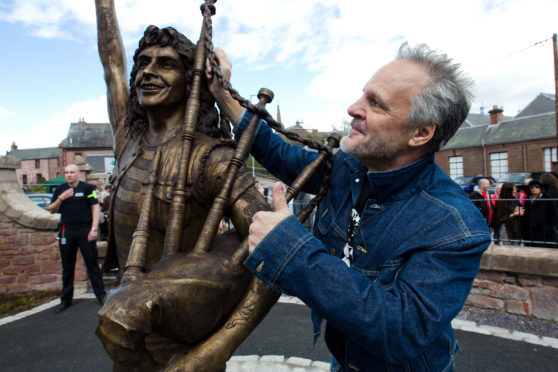 Members of AC/DC past and present have been added to a packed bill for this year's BonFest in Kirriemuir.
Former AC/DC bass player Mark Evans and the band's current drummer Chris Slade will perform at the annual rock festival celebrating Kirrie rock god Bon Scott.
This year's 13th annual BonFest takes place for three days and three wild nights over the weekend of May 4-6 and Graham Galloway from organisers DD8 Music said it is becoming a global festival.
He said: "Last year we had visitors from 27 countries from across Europe and places like Peru, Chile, the US and Canada.
"It's becoming a global festival and people are now putting BonFest in their diary and travelling from these countries every year.
"This year's line-up is unmissable and we've got members of AC/DC past and present at the top of the bill on Saturday and Sunday night with Motorhead legend Phil Campbell playing the Friday.
"As well as that we have the cream of AC/DC tribute acts from all over Europe."
Mark Evans, who played bass in the Australian rock band from 1975-77, will perform Bon Scott songs on May 5 with German band 'Bon: The AC/DC Show'.
Slade is the current drummer for AC/DC  and previously drummed for the band from 1989 to 1994, performing on their 1990 album The Razors Edge along with their first live album with singer Brian Johnson.
The 71-year-old will perform with Chris Slade Timeline – a band formed to celebrate 50 years as a rock drummer – which plays music from all aspects of his lengthy career.
The weekend BonFest line-up also includes; Whole Lotta Voltage; Restless Natives; Massive Wagons; Emerald Sunday; Dirty DC; the Gerry Jablonski and the Electric Band and over 30 other bands playing for free at venues around Kirriemuir.
The Saturday of the festival will also feature a celebration of the Year of Young People with examples of the variety of youth work that is going on in Kirriemuir and performances from young bands in Bellies Brae next to the life sized statue of Bon Scott that was unveiled at the festival two years ago.
BonFest is organised by volunteers from the DD8 Music group, and all proceeds from the festival go back into the community work the group carries out in the town.
Mr Galloway said: "Mark and Chris appearing at BonFest will be a real highlight and to have both performing shows how far we've come as a festival.
"Both have had incredible careers and it really adds to what is one of our strongest-ever line-ups at BonFest and everyone is looking forward to it.
"Ticket sales have been very strong and we've only got around 100 weekend tickets left so fans would be well advised to get advance tickets now before they go."
Mr Galloway also paid tribute to EventScotland which is supporting the festival for the third year through its National Event Programme — stating that the committee wouldn't be able to do it without them.
Scott and his family grew up in Kirriemuir, where father Charles Scott worked in the 
family bakery in Bank Street.
In 1952, when Scott was six, the family emigrated to Australia.
Once there he became part of one of music's biggest successes after joining Glasgow-born brothers Angus and 
Malcolm Young in their band, AC/DC.
Tickets for BonFest are available from Groucho's in Dundee, Mo'Fidelity Records in Montrose and the Kirriemuir Art Gallery in Kirriemuir.
They can also be bought online through www.bonfest.com.