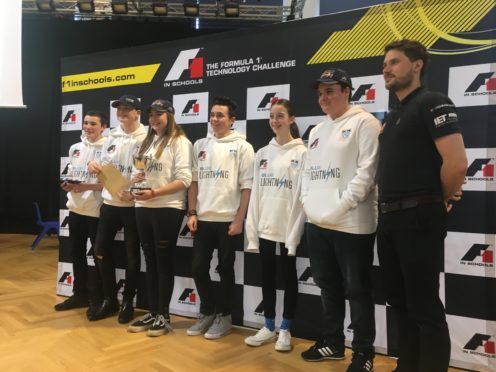 Angus youngsters are gearing up to fly the flag for Scotland in a race to create the Formula One car of the future at the home of the British Grand Prix.
The talented pupils from Monifieth High School are making final preparations for the UK final of the F1 in Schools competition, with a thrilling trip to the world showdown in Singapore at stake.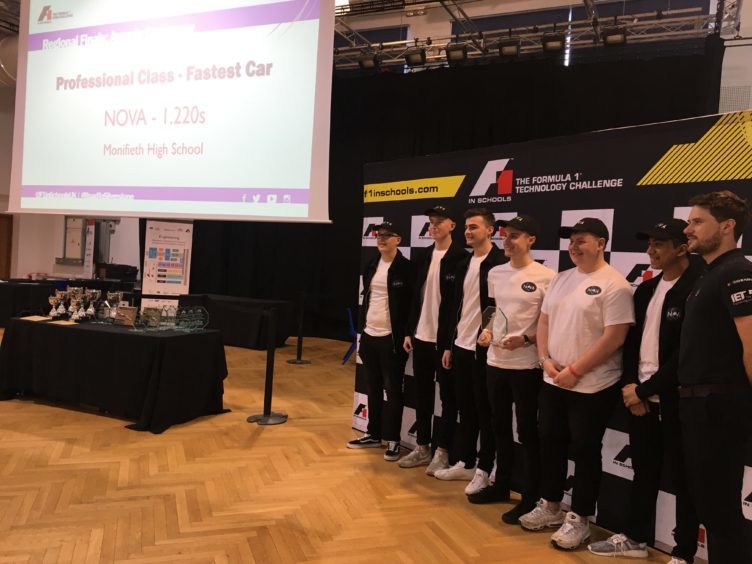 F1 in Schools is an international STEM (science, technology, engineering, mathematics) competition for school children aged 11 to 18, challenging them to work in teams to design, construct and race an F1 car of the future powered by compressed air cylinders.
Teams use the official F1 model block and hi-tech CAD/CAM design tools during the competition which currently operates in over 40 different countries.
It also enjoys support from some of the big names in the sport with Ranstadt-Williams, and various other automotive and engineering companies among sponsors.
Monifieth High School entered teams in two categories — the development class and professional class — and with the support of the school, parents and friends, Angus Council and many sponsors they are both now revving up for the Silverstone showdown.
The Angus contingent at the home of the British Racing Drivers Club on March 19 will include the six-strong Blue Lightning team, whose individual skills were combined to great effect in winning through at Scottish level.
"The team works together to solve problems and meet deadlines in a creative way. We would like to thank all of our supporters, especially our top sponsors Honda, McGills and Red Bull Racing," said a team spokesperson.
Monifieth also won the fastest car award alongside first overall in Scotland in the event, where the Bernie Ecclestone World Champions trophy is the prize at stake in the global final.
A spokesperson for the school's Team Nova  said: "We are very grateful to everyone who helped us get this far, especially our main sponsors Angus 3D Solutions, CSC Interiors and Dundee University. "
Monfieth High head teacher M C McInally said: "Both teams have already raised hundreds of pounds through sponsorship and fundraising events such as bag packing and raffles, but the travel costs to get two teams and their display stands to Silverstone to take part in a two-day event are huge.
"Please support them on their Just Giving pages: https://www.justgiving.com/crowdfunding/nova and www.justgiving.com/crowdfunding/bluelightning ."