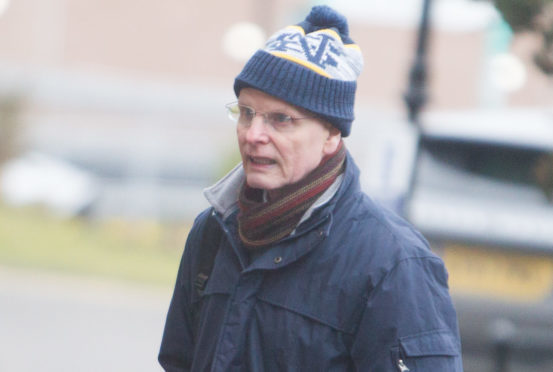 An Angus bus driver who crashed after dozing off at the wheel of his vehicle because of the "monotonous" sound of the vehicle's engine has been banned from driving for a year.
Francis Cavin, 65, Craig Crescent, Ferryden, Montrose, appeared at Forfar Sheriff Court on Thursday where he pled guilty to dangerous driving on December 8 2017.
The court heard Cavin had been driving a single-decker bus at 8.30 pm on the route from Stracathro to Montrose, via Brechin.
One of his passengers stood up to alight the bus in Murray Street, Montrose and she saw in a mirror the driver had his eyes closed.
The bus veered to the left and mounted the pavement.
The female passenger started screaming and confronted the driver, saying he had fallen asleep.
Cavin returned the bus to the depot and he was later charged.
Defence solicitor Nick Markowski told the court his client had been employed as a bus driver for nearly four years and had driven for a number of decades "without blemish".
"He apologises for the incident, is embarrassed and is shocked.
"He keeps good health and was checked by his GP and given a clean bill of health. He resigned from his employment.
"It was 8.30 pm in the evening, he had started at 4 pm and was feeling fine.
"He was driving on a very quiet route, hearing the drone of the engine, I can only assume with the monotony of the engine he has nodded off. He is very apologetic and does not intend to drive again. He accepts what he has done and no-one was injured."
Cavin pled guilty to driving a bus dangerously, falling asleep at the wheel, losing control of the vehicle which mounted a kerb, drove on the pavement and collided with a building, causing damage to the building and the vehicle.
He denied he drove a bus when unfit to do so through tiredness, which was accepted.
Sheriff Jillian Martin-Brown disqualified Cavin for 12 months, ordered him to re-sit an extended driving test and fined him £335.