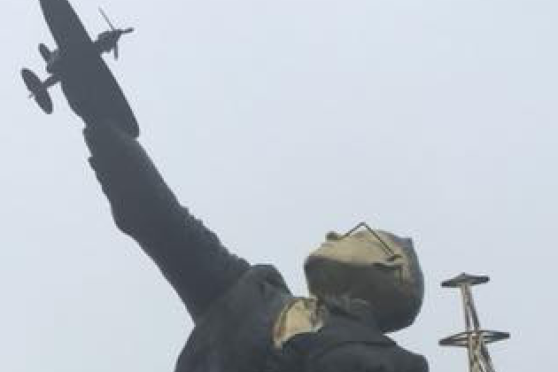 A teenage vandal is being hunted by police after graffiti was daubed across Brechin – including the defacing of the town's Watson Watt statue in St Ninian's Square.
Less than a week after community leaders backed a zero tolerance message from police given to gangs of unruly youths who have been causing havoc locally, residents and business owners have reacted with fury to a string of incidents.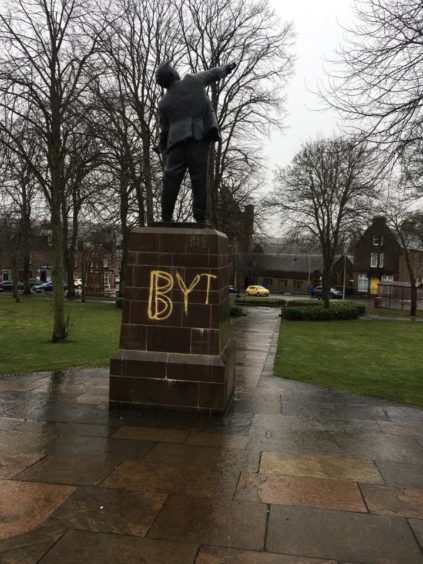 One daylight attack was reported in Damacre Road and has led to police issuing a description of a red-jacketed youth who was reportedly seen to spray paint letters on a house wall.
The slogan BYT was painted in yellow at several locations, including the plinth and actual face of the Watson Watt bronze.
Local Donna Duncan, whose house wall backing onto Dalhousie Street was also a target, said she fears a huge clean-up bill.
"It wasn't there when I came home, but when we went back out in the morning BYT was written in big letters.
"My husband then went out and found a trail of graffiti down the road.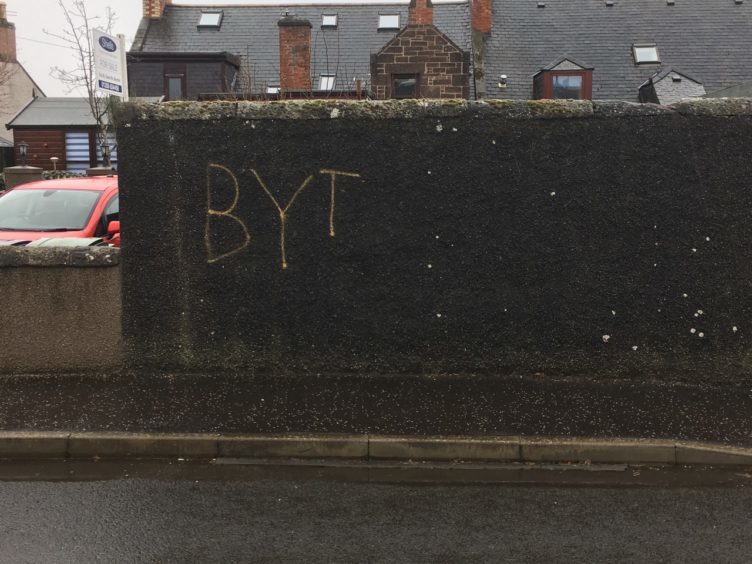 "There seems to have been this group of youths and we are hoping that people may have CCTV which would help the police track them down."
Resident inquiries have led to the suggestion that the spray paint was bought at a local shop before the vandal attacks were carried out.
Police Scotland confirmed they are dealing with a reported vandalism witnessed in Damacre Road around 3.40pm on Tuesday, with the possibility that others may be linked.
A spokesman said: "A male youth, described as 14 to 16 years of age and wearing a red jacket with dark sleeves and carrying a rucksack, was seen to spray paint letters on to the wall of a property.
"He then made off, accompanied by a group of four to five youths of a similar age.
"They were last seen in Brechin High Street.
"If you have any information which could assist our enquiries, please call 101 or speak with any police officer. Our reference is CR/7913/18," the spokesman added.
Social media suggested the slogan stands for Brechin Young Team and the actions of those responsible for the graffiti have been widely condemned, with the vandal or vandals branded "mindless" and "disgusting".
Last week, Brechin High School distributed a letter to parents after local police highlighted problems of unruly youths in the community.
Sergeant Clark Renilson said a spate of problem behaviour and vandalism had led to incidents involving groups of unruly youngsters as large as 40 strong, leading to police being inundated with calls from concerned locals.
Angus Council leader and Brechin Independent councillor Bob Myles the behaviour "frankly disgraceful", with local SNP councillor Kenny Braes saying he fully endorsed the tough approach promised by police.