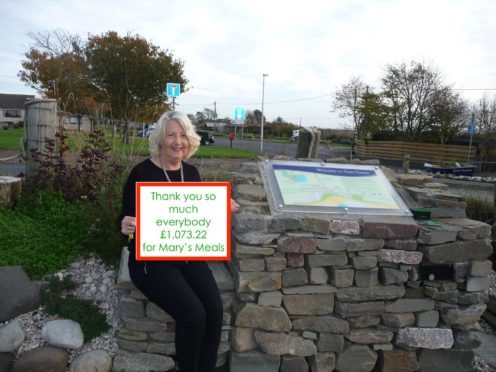 A kind-hearted Easthaven woman who has raised thousands for the Mary's Meals charity by providing refreshments for cyclists and walkers enjoying the Angus coast is heading to sunnier climes.
Morag Tindal, who has provided juice and biscuits on the Carnoustie/Easthaven cycle path over the last three and a half years, is stepping down as her husband Tom retires.
Morag has always supported the global charity, which provides one good meal a day to some of the world's poorest children every school day.
She came up with the idea of leaving refreshments outside her home next to the cycle path, beginning with jugs of water with lemons.
Regular passers-by would look out for her offerings, with visitors from all over the world appreciating her kind gesture and making a donation.
Morag said: "Millions of walkers and cyclists from all over the world use the cycle path.
"I started putting out refreshments when the kilt walk was held from Montrose to Carnoustie. It has gone from strength to strength."
A cairn was built to allow donations to be made in a safe way, with £1,073 raised last year to provide meals for children who attend a place of education in more than 15 countries across Africa, Asia, Latin America and the Caribbean.
"Last year alone we raised almost £2,000. In the summer I put out jugs of juice, strawberries and melons.
"Regular visitors look out for them, with rich tea biscuits and pan drops also proving popular."
Morag's efforts were recognised when she and Tom were invited to the Royal Garden party at the Palace of Holyroodhouse in Edinburgh.
Famous names have also thanked her for her efforts, with Lorraine Kelly Tweeting her appreciation.
Morag has also met a number of famous "London" footballers over the years who have also appreciated the Easthaven refreshments.
She said: "It has been extremely popular and the donations have raised thousands of pounds for Mary's Meals.
"I have loved meeting the regulars and visitors, from celebrities to joggers in training."
Morag and Tom are hoping to spend more time in Spain during their retirement.