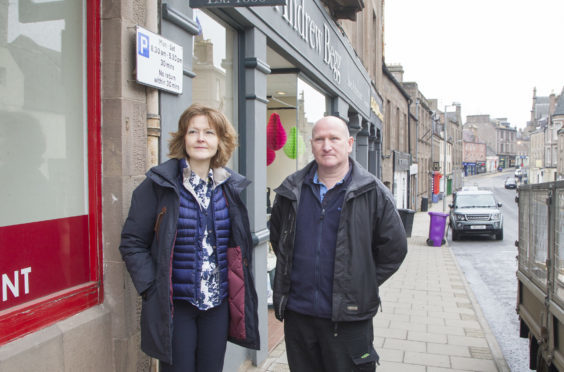 Forfar retailers have joined the campaign against parking charges in Angus and called for a council re-think on the proposed 15 minute period of grace.
Town centre retailers spoke of their "shock and surprise" when they learned of the introduction of charges on October 1, a plan they state is a "fait accompli".
They fear the charges will force employees and shoppers to park in residential areas and supermarket car parks outside the town centre.
They also say the 15 minutes free parking should be doubled to 30 minutes, the "status quo" of current restrictions.
Forfar Community Council has revealed the result of a survey of 59 retailers.
Nine out of ten town centre retailers, including 100% of the butchers, newsagents and charity shops surveyed, stated the proposed parking charges, which begin on October 1,  would be bad for business.
Katharine McLean of Andrew Begg in West High Street, and Ray Bruce of Bruce Locksmith and Hardware in East High Street, are part of an informal group of retailers which meets regularly to discuss a number of issues.
Katharine said: "We found out about the introduction of parking charges by stealth. It felt like a fait accompli. We feel it will tangibly effect our income.
"What is frustrating is there are green shoots with new businesses starting up as a result of forward thinking two or three years ago, and now the retrograde step is they are  going to nip these green shoots in the bud."
"I'm not saying the council shouldn't charge for any parking, I realise they have a hole in their budget, but there needs to be a limited period of free on-street parking.
"The status quo of 30 minutes free parking is fine.
"I don't think we are being stupidly naïve thinking there can be no charges when there are services being cut, it's just the manner of it and the extent of it.
"We accept there has to be change, but there has been a lack of sensitivity to the pressure businesses are under.
"We worry incessantly about footfall, which is a real concern, and we think this will hinder footfall."
Ray argued the 15 minutes free grace proposed by the council was not long enough, especially for those wishing to visit restaurants in the town.
The recent introduction of traffic wardens had proved successful but they fear any benefits to trade will be removed by the 15 minute free parking period, a move they state is a "retrograde step."
An online petition set up by Jill Scott, chairman of Brechin Community Council, for a 30 minute period of grace has attracted more than 4,000 signatures.
Councillor Angus Macmillan Douglas, the authority's depute leader and finance convener said: "The introduction of parking charges in Angus towns will make an important contribution to the funding of vital services by raising £300,000 in the current financial year and then £700,000 in 2019-20.
"These services include, for example, the Health and Social Care Partnership, to which we gave an above inflation settlement for 2018/19.
"It will also bring Angus into line with neighbouring councils, which have charged for parking for many years, although it should be noted we shall charge less than our neighbours.
"We believe that charging will discourage congestion while still giving drivers the opportunity to park for a reasonable time in our town centres.
"It also asks those who park to pay, including visitors and tourists, as opposed to the 23% of Angus households that do not own a car.
"We have opened a consultation with residents about how the charges will be administered and we very much welcome the constructive involvement of as many Angus citizens as possible in this consultation.
"We have done a remarkable job in cutting costs and increasing efficiency, but there is only so far that these efficiencies can go.
"I have no doubt that charging motorists for parking is one of the least bad ways of offsetting part of the significant budget challenges we face while protecting essential services."