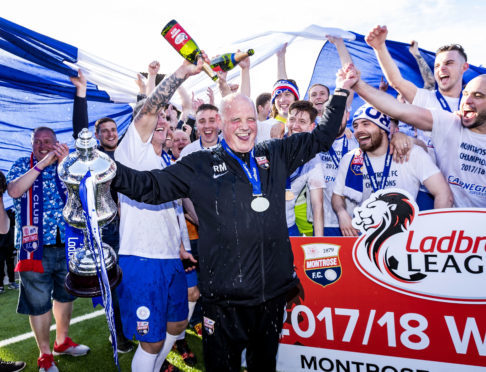 Close in distance terms, the Angus grounds of Brechin and Montrose football clubs were separated by the chasm spanning agony and ecstasy in the nail-biting finale to the Scottish season on Saturday.
At Links Park, there were scenes of unbridled delight as the helicopter carrying the League Two championship trophy touched down, the pilot having charted courses for either Angus or the north east.
The Gable Endies' draw with Elgin secured the precious point Stewart Petrie's side needed to pip Peterhead to only the second championship in the 139-year history of the club – coming more than 30 years after they won the old second division in 1984/85.
Petrie was brimming with pride in his side's achievement, with celebrations going on long into the Angus night and many fans enjoying a photo with the prized silverware.
Petrie said: "What they have given us from day one until now has been unbelievable.
"It is my first job in management so to work with a group of guys so dedicated makes that job easier.
"They thoroughly deserved it, there is no question of that."
Along the A935, Brechin fans finally closed a Championship chapter to forget following a winless season unprecedented in the senior game.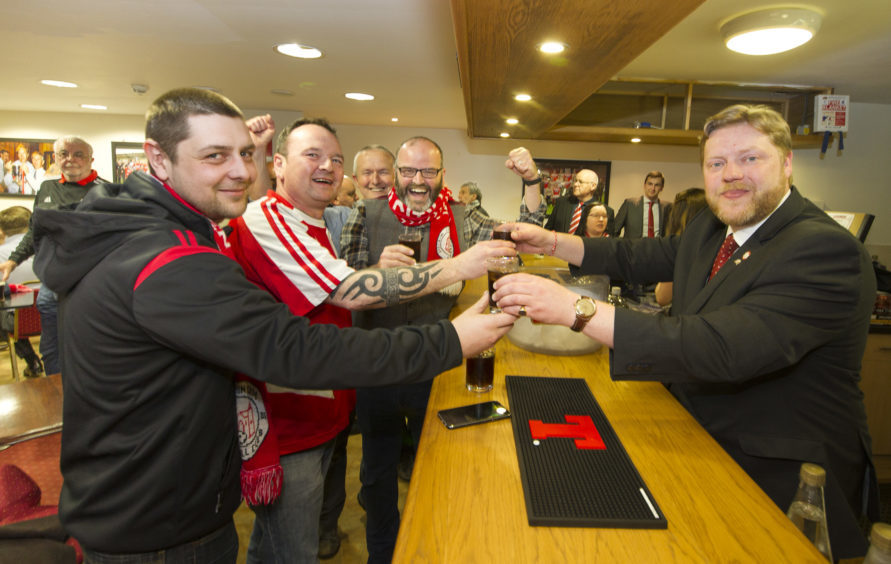 Loyal fans had been treated to a free drink in the City Club before the game, but hopes that it might have been an aperitif to a final flourish disappeared in a 5-1 defeat to Queen of the South.
The loss left the Glebe Park side with an unenviable entry in football's record books – their meagre tally of four points having come from draws across the campaign.
Brechin chairman Ken Ferguson admitted: "It's not really a case of the morning after the night before, more the morning after the season before.
"At the end of the day it's been difficult, but we don't feel sorry for ourselves – we gave it our best shot and it is just one season in our very long history.
"We'll look back and think that there's not much more we could have done this season, and I believe we're going back in better shape than we came up in."
Depending on the play-offs outcome for Dick Campbell's Arbroath, the 2018/19 season could see all four Angus clubs competing in the same division for the first time in around a quarter of a century.