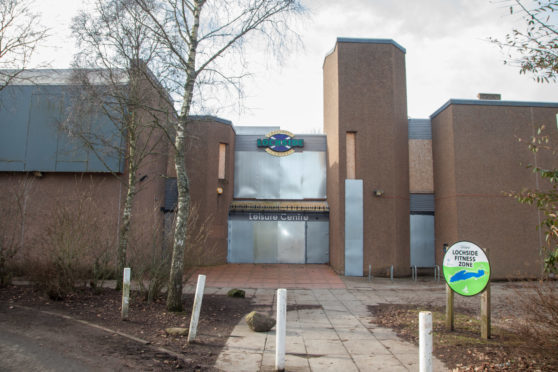 The bulldozers will close in on Forfar's troubled Lochside leisure centre almost immediately.
Members of Angus Council's policy and resources committee paved the way for the £500,000 demolition of the vandal-hit building at their meeting in Forfar on Tuesday.
At the same time, councillors gave the go-ahead for  a £40,000 spend from the Forfar common good fund for new toilets next to the ranger centre adjacent to the old leisure centre, which will be maintained by Angus Alive staff for visitors to the popular loch country park.
The leisure centre, which in its heyday hosted a variety of events from squash and badminton tournaments to five-a-side football and drama productions , has become a magnet for youths since it was boarded up last February after the sports facilities were incorporated in the town's multi-million pound community campus.
Vandals targeted the building, described as an "eyesore" by Forfar councillors Lynne Devine and Braden Davy at yesterday's meeting, with groups up to 30-strong gathering to drink and cause havoc.
In one incident, visiting tourists at the adjacent Caravan Club site had their car and caravan damaged when youths hurled chunks of concrete over the perimeter fence with items also thrown at passing vehicles.
Committee members unanimously agreed a report which recommended the building's demolition.
An allowance of £500,000 has previously been set aside to meet the costs, including reinstatement.
Ian Cochrane, Angus Council's head of infrastructure, said the building had previously suffered subsidence with ongoing settlement.
A number of potential opportunities had been explored but the building, ultimately, would need to be demolished.
Following he demolition the area will be returned to grass, including some realignment of the paths around the building.
Welcoming the report, Ms Devine, SNP councillor for Forfar said: "I am glad this has come forward. There have been a lot of comments from people with stories to tell.
"Be very clear, the council is bringing down this building at long last. It is an eyesore."
Ms Devine asked when the building would be demolished, to which a council officer replied: "As soon as it is approved."
Forfar Conservative councillor Braden Davy also welcomed the report and spoke of the "bigger picture".
He said: "I am very enthusiastic about this – the leisure centre has become a trouble magnet.
"I welcome the bigger picture – there is an application for common good funds to provide toilets in the area, and the local gymnasts are hoping to take over the former tennis courts.
"This is very welcome news for the park."