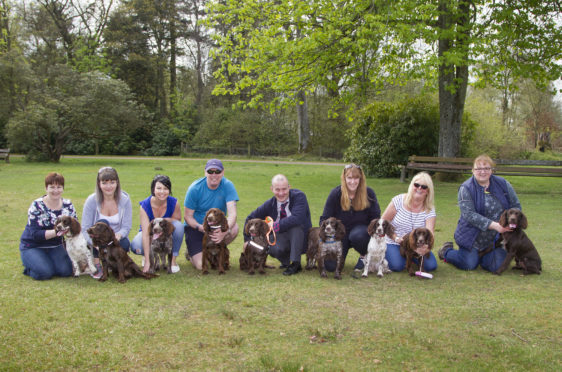 A film star pup which has transformed the life of a Scots veteran had a weekend first birthday run-around reunion with his canine family in Angus.
Exactly a year to the day since the young sprocker (springer cocker spaniel cross) arrived in a bumper litter of 11 at the Kirrie home of former policewoman Jacqui Low, the dog now named Antis was joined by brothers and sisters from as far afield as Huntly and Helensburgh in the wide open spaces of Monikie country park.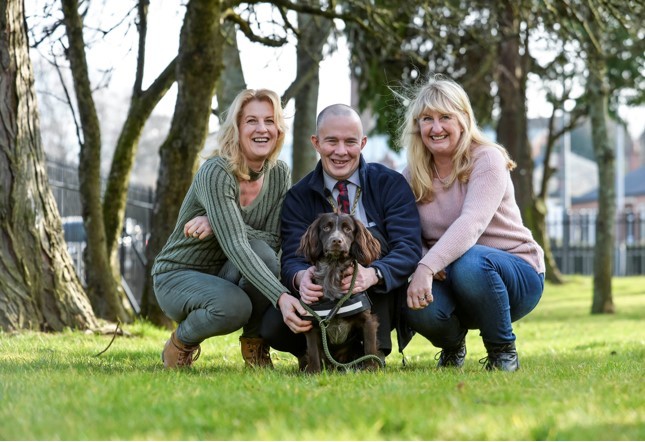 All of the dogs have become loved family pets, but Antis is helping former soldier Tommy Masters overcome the struggles he has faced since leaving the military after being gifted by Jacqui to the Bravehound charity which trains dogs as companions for veterans affected by issues including PTSD.
Bravehound names its dogs after recipients of the Dickin Medal – the canine equivalent of the Victoria Cross – and the Angus pup was given the name of a German Shepherd which flew dozens of perilous missions at the feet of its Czech master over hostile German territory.
The story of Antis inspired famous author Damien Lewis, a patron of Bravehound, to write the non-fiction book War Dog and the Kirrie youngster was chosen for the starring role of a yet to be released film adaptation.
Tommy said Antis had given him a "new lease of life" after he found it hard to cope when he was medically discharged from the army.
Jacqui said the party was a chance for the owners of her litter to meet each other and also learn more about the valuable role the Sprocker sibling is playing for Bravehound.
"I keep in touch with the families the other pups went to and have met up individually with a couple of them, but thought it would be nice to see them on their first birthday and managed to get eight of the 11 together," she said.
"Bravehound isn't that well known, but Antis has made a real difference to Tommy and he's been keeping us updated.
"The number of dogs the charity has trained for new owners is into double figures now so hopefully we can continue to promote Bravehound – we were delighted to give them a dog and it's great to see how well he has done."
Jacqui is organising a fundraising family ceilidh in the Forfar Legion on June 15 for Bravehound. For tickets, call 07803 180710
The charity provides all training, food and vet fees for its dogs.