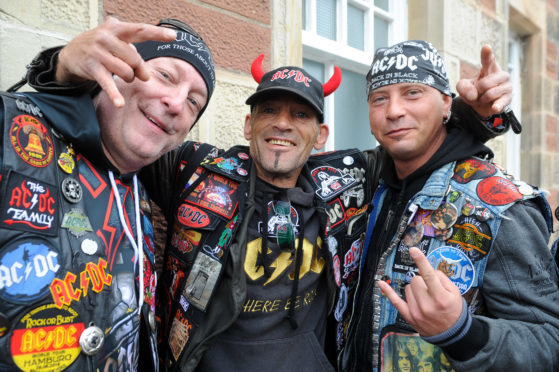 The "little red town" was back in black at the weekend as thousands of AC/DC fans from around the world descended on Kirriemuir for Bonfest 2018.
Businesses were booming from morning to night as locals welcomed the AC/DC family, many making return visits to the home town of front man Bon Scott.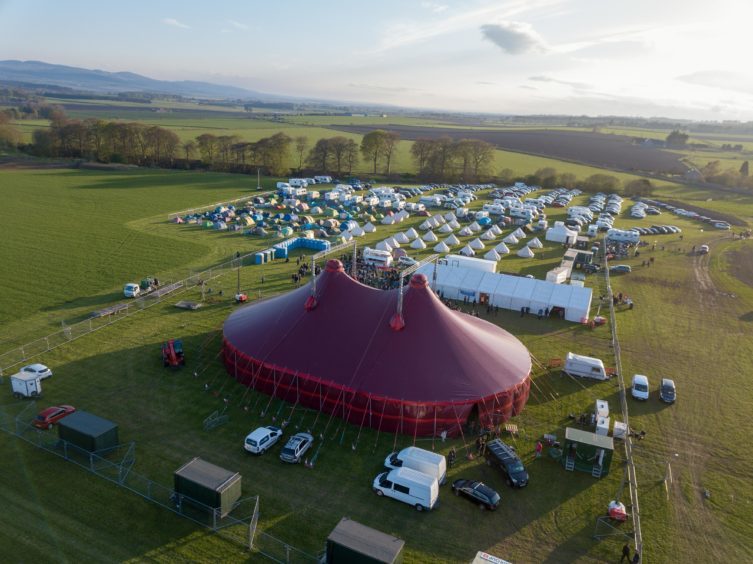 Among those enjoying the atmosphere was Angus Provost Ronnie Proctor who paid tribute to the people of Kirriemuir for the way they have embraced the event.
He said: "The atmosphere is absolutely fantastic.
"Bonfest grows year on year. It is great for all those who come here to celebrate Bon Scott, and for the people of Kirriemuir who make them feel so welcome.
"I have travelled and have been welcomed all over the world and it is great seeing Kirriemuir reciprocate the kindness it shows to our visitors – long may it continue."
Mr Proctor was among the thousands who gathered outside the Town Hall for a re-enactment of the iconic AC/DC Long Way to the Top video.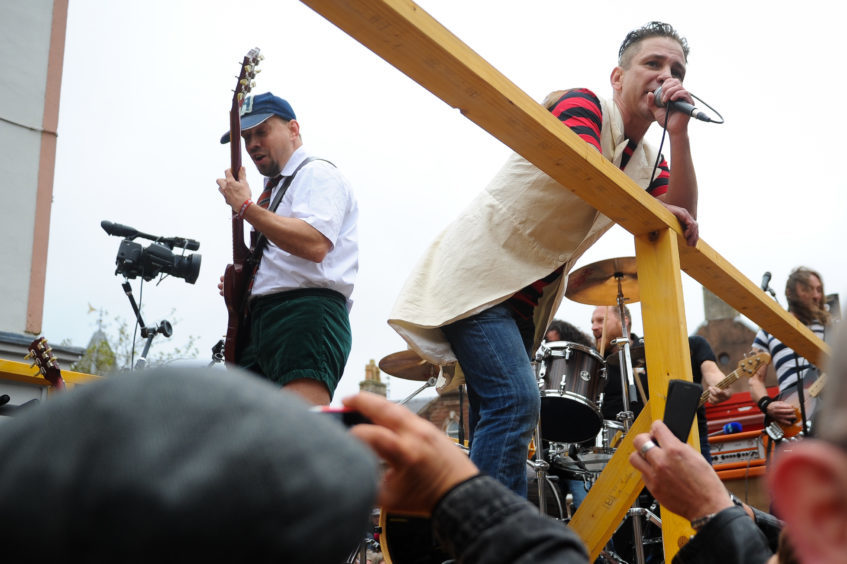 Thousands walked behind the German band Bon AC/DC as they performed from the Town Hall to the town centre.
Lead guitarist Dennis Young, who played alongside AC/DC bassist Mark Evans, said: "It is a great honour to come here and to play in front of all these people.
"This is something I will tell my kids later in life – I can tell them I did it."
The journey for Mark Evans was also emotional, coming 42 years after the original when he performed alongside Bon Scott.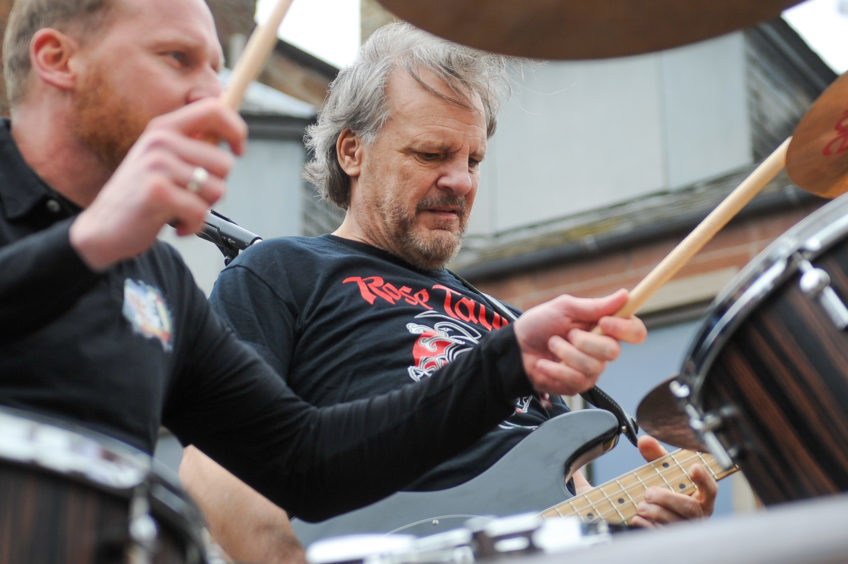 Bon displayed his prowess on the pipes in a nod to his Scottish heritage in the video alongside bandmates Angus Young, Malcolm Young and Phil Rudd.
The former AC/DC bass player agreed to take part in the re-enactment for the first time in 42 years to remember his fellow band-made.
Bon Scott emigrated as a young boy when his family moved to Australia in the early 1950s. He died in London in 1980, aged just 33.
Among those in Saturday's procession was Sarah Bell from Boston enjoying her third visit to Bonfest, the second with her aunt, Barbara Rock, from upstate New York.
Sarah said: "I have been a fan of AC/DC and Bon Scott since I was about 10. His voice is the reason I am here today.
"He got me through some really difficult times – he is my beautiful dream man."
Barbara made her first visit to Kirriemuir two years ago for the unveiling of the Bon Scott statue.
She said: "I missed it last year but everybody here is so friendly, we know so many people.
"It is worth it coming back from the States just for this.
"I knew I wanted to come back after the first year as I just loved it – I have come back to reconnect with so many people."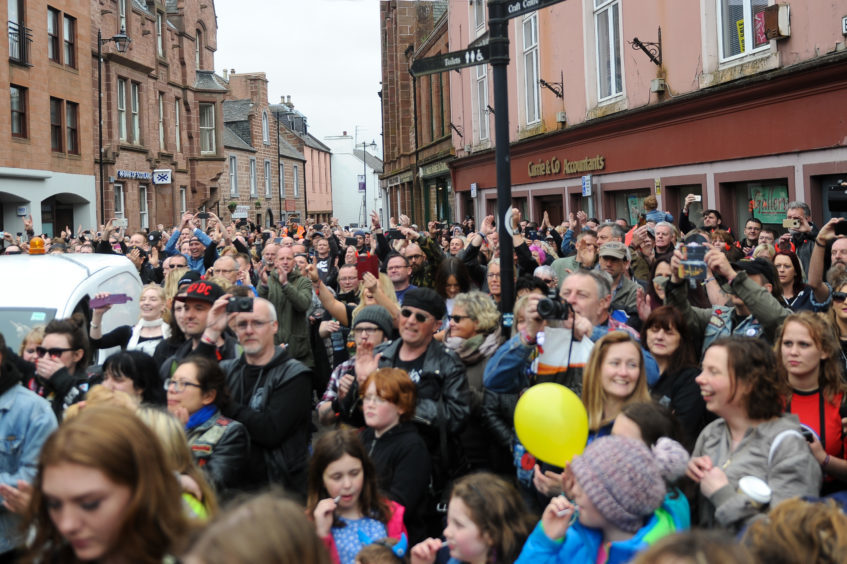 Among those who welcomed visitors from around the world was Liz Crossley-Davies, who took over the Star Rock Shop a week ago.
Her shop was queued out with fans snapping up packs of specially made rock in the AC/DC colours with a lightning bolt through it.
She said: "We have had customers from Australia, Canada, New Zealand, Peru, as well as French, German, Belgian and Irish customers and those from all over the UK.
"Bonfest is such a fantastic celebration. Everybody is so happy, it feels so special."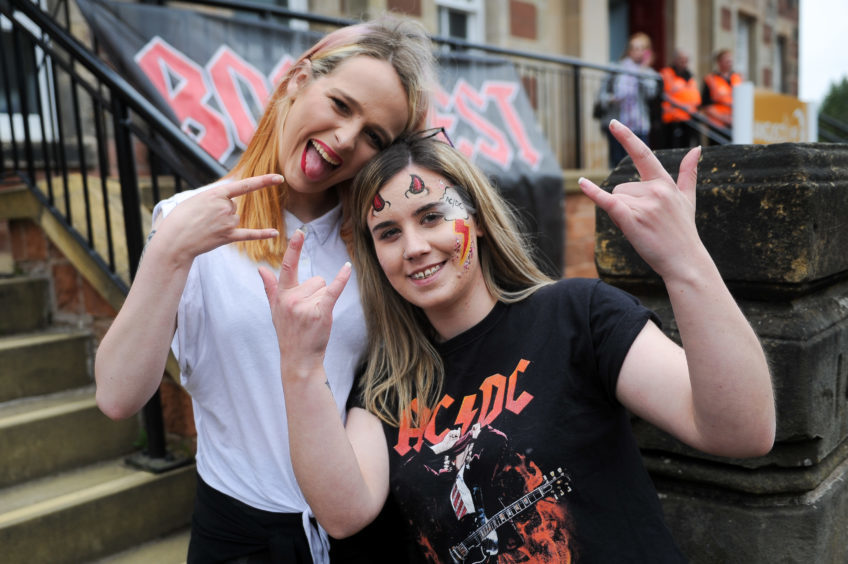 As the three day event drew to a close yesterday, Graham Galloway of DD8 Music confirmed Bonfest 2018 had been the biggest and best to date.
He said: "The feedback we get from everybody is how friendly the people in the town are, it is one of the things that brings people back year after year.
"Our total attendance over the three days was 6,000. It is the busiest Bonfest so far, without a doubt, and we are already planning next year's."