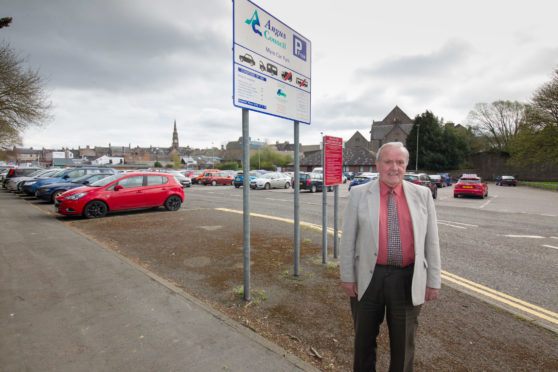 A leading Angus councillor's suggestion of charging teachers to park at schools has been slated as a "non-starter".
Depute Provost Colin Brown's proposal has already been branded an unrealistic option by the country's largest teaching union after he raised the prospect of school staff and council employees being made to pay £1-a-day to spare the general public being subjected to new on-street charges due to come into force in October.
The detail of how parking charges will be applied, and at what rate, is still being worked on as part of a proposal which the cash-strapped authority believes will generate £700,000 per annum.
Almost 2,000 people have responded to a council consultation on the controversial return of parking fees after more than two decades, with Forfar Independent councillor Mr Brown sparking further debate with his suggestion that authority staff, including teachers, should not be able to park for free while those working in town centres would have to pay.
He said calculations for Forfar alone indicate a potential annual income of more than £300,000.
Teaching union EIS Scotland said parking charges could make it more difficult for Angus to attract new school staff.
North East region Conservative MSP Liam Kerr has also suggested the idea should be parked.
He said: "I support the fair and balanced rollout of parking charges in Angus.
"But the prospect of charging vitally important public servants like teachers is a non-starter. It also sends out the wrong message.
"Councillor Brown must see this as an error, and agree there would be no financial benefit and this move would only punish teachers."
Meanwhile, the council has thanked the 1,756 people who responded through the authority's online consultation on the issue, which came to a close this week.
A spokesperson said: "We are very grateful for the information and comments provided via those responses which will help to inform the detailed planning and introduction of charges for parking.
"We will take time to ensure that all of the views expressed are considered and assessed as we look to how this scheme will be progressed, where limited waiting on-street parking and our off-street car parks are currently situated.
"Elected members will be briefed on the consultation responses, along with findings and recommendations on how best to proceed, which will be reported at a future meeting of the Communities committee.
"Our aim is to make parking charges simple, clear and easy to understand.
"Charges are being reintroduced to allow the council to protect vital services across our communities at a time of radical reductions to local authority funding," the spokesperson added.
"They will also ensure that quality off-street car parking is enhanced throughout Angus for both local shoppers and visitors. Blue Badge holders will continue to be able to park for free."
Almost 4,500 people have also signed an online petition demanding a period of grace for on-street parking, claiming that a £1-an-hour levy will impact heavily on town centre businesses.