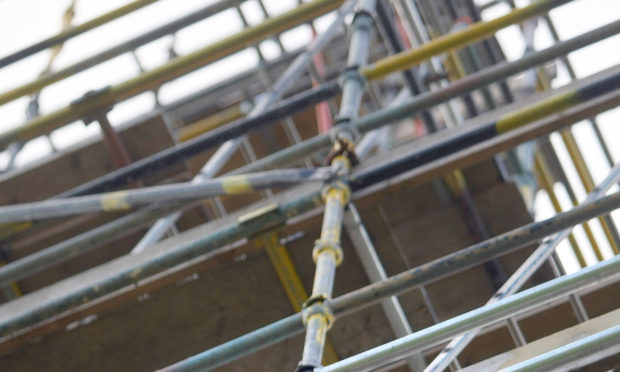 A group of teenagers are risking their lives in a dangerous craze in Arbroath.
They have been scaling scaffolding on numerous occasions at building sites in the town, prompting the Police to issue a warning for them to stop before an accident happens.
Angus Council warned this type of "irresponsible behaviour" has, in the past, led to "serious injury and even death", and ordered those involved to "keep out".
The 10 to 15-strong group has climbed scaffolding at Ponderlaw Lane in the town centre, and Hamilton Green, the council's housing development in the Abbey Quarter.
Their disregard for their own safety and the belief their actions are "a bit of a laugh" have prompted Police Scotland to advise the teenagers to curtail their actions.
They have also issued a plea to parents and carers to talk to their children before someone is injured.
A Police spokesman described the group as being in their mid-teens.
He said: "We are aware of young people climbing on scaffolding and remind them of the dangers of doing so.
"Children place themselves at risk if they enter these buildings, climb on scaffolding or on the roofs."
The spokesman continued: "We are asking parents and carers to assist us, to keep children safe and reduce incidents of anti-social behaviour in our community.
"We urge parents and carers to be aware of where their children are, who they are with and what they are doing.
"Talking to your child about potential dangers and their consequences could make a difference to their safety.
"It is important for young people to understand the potential risks and consequences of their actions.
"They may get involved in activity they may consider is just 'a bit of a laugh' without considering the potential consequences."
Referring to its Abbey Quarter housing development, an Angus Council spokesman said it was a secured building site, with fencing around its perimeter advising people to keep out of the construction area for very obvious safety reasons.
He said: "Under no circumstances should people be entering the site, site buildings or building under construction without authority.
"Neither should they attempt to climb the perimeter fencing or scaffolding within.
"This type of irresponsible behaviour can and has led to serious injury and even death in the past and we would urge anyone who sees young people involved in such actions to contact the police immediately."
Arbroath East and Lunan Independent councillor Lois Speed, vice-convener of the council's communities committee, urged parents and carers to raise awareness of the fact building sites are "out of bounds".
She said developments like  the Abbey Quarter have a habit of  attracting attention which needed to be "completely discouraged".
"I pass this particular site regularly and its exciting to see the development taking shape.
"It's disheartening to learn some young people have entered it.
"Thankfully no one has been hurt or injured and Hadden, the construction firm involved in delivering,  are now taking extra measures to ensure site safety and protection from this unwanted intrusion."