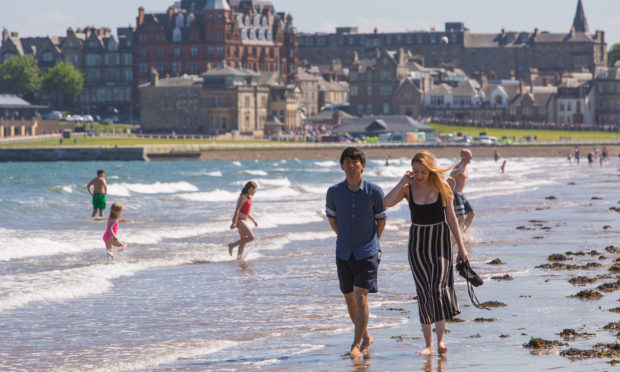 "Wall-to-wall" sunshine forecast for Tayside and Fife this weekend could continue well into next week, according to forecasters.
The east coast of Scotland is expected to swelter in the heat on Saturday, May 18 and Sunday, May 19.
With temperatures potentially rising to as high as 22C in Courier Country, it may be the hottest weekend of the year in the local area.
May 6 was Scotland's hottest day of 2018 with a high of 22.3C recorded in Edinburgh – while a sweltering 28.7C was reported in Northolt, West London, on Monday, May 7. However Dundee only recorded 15C on the Bank Holiday Monday.
Earlier this week the Met Office said that "wall-to-wall" sunshine would arrive in Courier Country on Saturday and continue in Sunday.
Now the organisation has said that the fine weather may endure into next week, although the most recent forecast suggests Sunday could be more "overcast" than first thought.
Met Office spokesman Grahame Madge said: "In terms of Saturday, across Scotland the best and clearest conditions are going to be in the east, so I think anywhere east of the Highlands is going to see quite a lot of sunshine.
"There's a front out to the west but it is way off, even off of St Kilda. Temperature-wise we are looking at seeing values of around 22C in the south. It does look like you could get that in Scotland as well.
"Aberdeen looks as though it may be 18C – 20C (on Saturday). That really is probably the best day of the weekend."
Inland areas are among those that could see highs of 21C – 22C.
Mr Madge added: "On Sunday that front that had been hanging off the coast of the Atlantic is going to make some encroachment into Scotland, bringing rain to western parts (and) possibly a little but of rain into the east.
"Most of the showers remain in the west. That is where they'll remain at the moment. The eastern part of Scotland is largely remaining dry. There should still be plenty of sunshine in the eastern half.
"Sunday temperatures are still looking at the high-teens, Aberdeen (is looking like) 17C – 19C, which is a good proximate for the rest of the east coast of Scotland.
"At the moment the weekend, for eastern Scotland looks fine, some overcast (conditions) on Sunday."
He added there is "uncertainty" around the temperatures for the beginning of next week, but that they may well be 20C or above.
Mr Madge said: "Into Monday these temperatures are remaining reasonably high and warm.
"On Monday there is a bit more of a range. Overall temperatures, I would be inclined to go to something like 17C – 18C. There are similar values on Tuesday.
"We could still be seeing temperatures in the twenties in parts of Scotland through into Wednesday and even beyond but as I say, there is less confidence and less certainty around that. We'll have a clearer idea over the weekend."
Should clouds steer clear of eastern Scotland, temperatures could reach up to 22C in parts of Tayside and Fife this weekend.