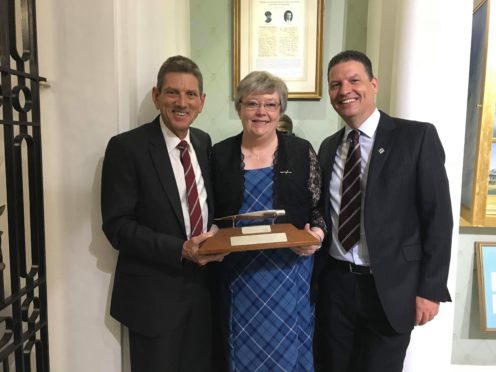 Arbroath based business woman Gill Howie has landed a prestigious award at the 71st annual reunion of the elite 43 (F) Squadron in London, attended by squadron veterans and those with an affiliation to the unit.
The Beedle Trophy was presented to Ms Howie by Air Chief Marshal Sir Simon Bryant, KCB, CBE a former Commander-in-Chief of the Royal Air Force's Air Command and the President of the 43 (F) Squadron Association.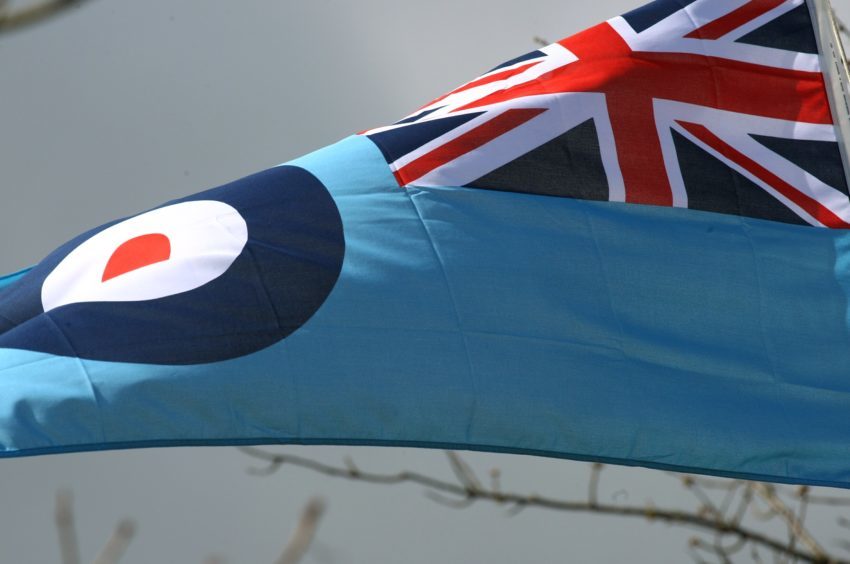 The presentation recognised Ms Howie for her work over many years with 43 (F) Squadron – nicknamed the fighting cocks – whose motto, gloria finis means 'glory is the end',  the RAF and its associated charities.
Speaking after the presentation, Ms Howie, who runs Squadron Prints with husband Berry Vissers said: "I am deeply humbled, but also hugely proud to have been presented with this award – it was a very emotional evening.
"I have a huge connection with 43 (F) Squadron, as Alan Carlaw, who founded Squadron Prints, and was like an uncle to me, served with the squadron, and was also a recipient of the Beedle Trophy.
"The very first print that the company produced when it was founded by Alan was also for 43 (F) Squadron, so we have a lot of shared history.
"The fact that the company is now celebrating its 40th anniversary, makes this award even more special." She added.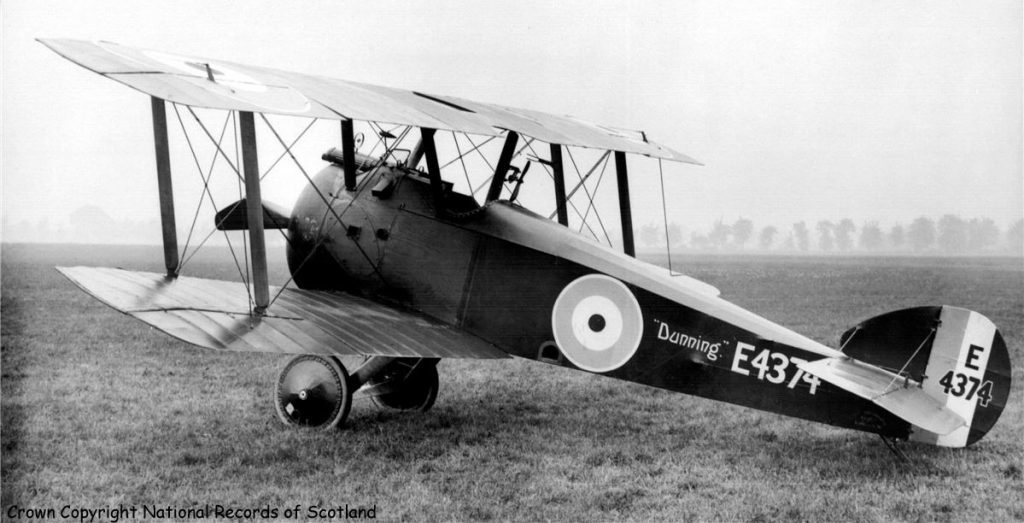 Squadron Prints, was founded in 1977, selling highly accurate aviation prints, but since then, the business has taken flight and expanded its range of products, which now includes clothing, coins, mugs and patches.
The firm exports to individuals and air forces worldwide and customers include internationally renowned units such as the Red Arrows.
The fighting cocks were formed at Stirling in 1916, and although disbanded in 2009, the squadron retains close links to the area, with a memorial stone at Falleninch Farm.
Meanwhile, the squadron's standard is laid up in the Church of the Holy Rude in the town.
The squadron's battle honours reflect the long history of the unit and include the Western Front, 1917-1918, Battle of Britain, 1940, Sicily, 1943, Gulf 1991 and Iraq 2003.
Nicknamed 'the fighting cocks' and  sporting the emblem of a gamecock, the squadron was previously based at RAF Leuchars in Fife flying the F-4 Phantom and the Tornado F3, where the distinctive black and white checked markings on the planes were a firm favourite with locals and enthusiasts alike .