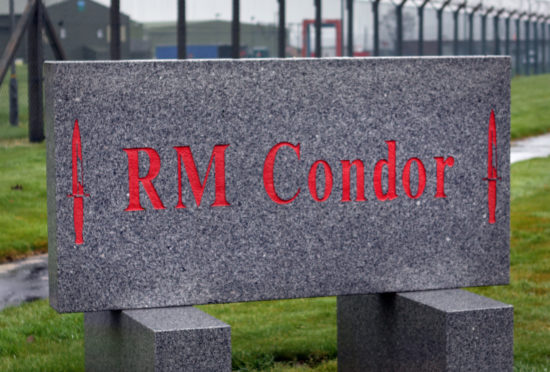 Youngsters from the seven burghs of Angus were given a taste of military life when they were put through their paces by members of 45 Commando at RM Condor.
The annual Spirit of Adventure day started as part of the Queen's Diamond Jubilee celebrations in 2012 when youngsters completed six different walks through Glen Clova and Glen Prosen.
The programme seeks to introduce young people to experiences and activities they might not have had the chance to try before.
The group, comprising eight pupils and two teachers from each of the eight secondary schools in the county, started the day with a briefing and welcome by Lieutenant Colonel Duncan Forbes, commanding officer of RM Condor.
Following a speech by Lord Lieutenant of Angus Georgiana Osborne, they were split into four groups to take part in a series of activities.
The youngsters sampled a fitness session in the gym's base, live firing at the 25 metre range, and an observation exercise — in which the pupils had to memorise 17 military items then take a test on what they had seen.
An indoor virtual reality shooting activity also proved popular, as did the outdoor cooked lunch, followed by strawberries and cream.
Lord Lieutenant Georgiana Osborne said: "The day has been a huge success. The marines guided and mentored the pupils all day, and the support they received really was excellent.
"The marines really do provide very good role models, and of course we were very lucky with the weather which was bright but not too hot for taking part in the activities.
"The day is a very good opportunity for the children to be challenged and to push themselves at activities they have not tried before.
"It has been a wonderful day, and it is wonderful that RM Condor want to be part of this important project."
At the end of the day, one child from each school was selected to attend a six-day holiday at the Ridgeway Adventure centre in August, where they will take part in kayaking, climbing and abseiling, as well as learning survival skills.