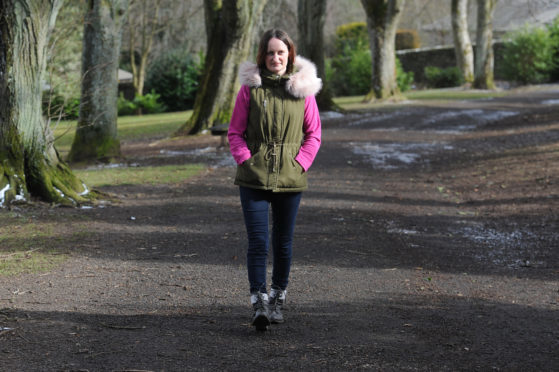 An Angus woman has told how she is still struggling to walk three months after a sledge tumble.
Anne Johnston from Forfar was sledging with her family in Arbroath when she fell backwards and banged her head.
She was rushed to emergency surgery at her GP five days after the accident after waking up to find her speech was slow and she was struggling with basic movements.
Miss Johnston was diagnosed with post-concussion syndrome on March 8 and has been forced to put her established photography business on hold and postpone photography tuition sessions until she recovers.
She said: "I can't believe I'm now over three months into my recovery.
"While I've definitely come a long way in that time I know I've still a way to go yet.
"Unfortunately there's no way of telling how long it will take but I try to take each moment as it comes and listen to my brain, trying to get the combination right between pushing myself and resting.
"That's difficult to judge sometimes.
"Most of my symptoms are gradually improving but my biggest challenge is with walking as I have poor balance and coordination and there hasn't been much improvement there.
"I've been referred for specialist help."
She was initially signed off for three weeks but her recovery is taking longer than expected.
She is still unable to drive, suffers from fatigue and headaches and struggles to complete basic tasks.
"I'm still very sensitive to noise," she said.
"I wear earplugs whenever I go out to help drown out noise or when I know I'll be with a group of people.
"I often do this at home too as I can't watch TV at a normal volume.
"Between leaving the fridge door open, the oven on and taps running I'm basically an accident waiting to happen.
"When I'm trying to do even basic tasks around the flat it can be frustrating but I choose to see the funny side."
Miss Johnston said she has now started sharing her journals on a blog at findingmysparkle.co.uk to help educate others "and help other PCS warriors feel less alone".
She said: "Through the power of social media I've found lots of PCS warriors all over the world and it really helps to be able to speak to people that truly understand what you're going through.
"PCS is a whole load of scary bananas and I want people to read my blog, know that they're not alone and that things do get better."