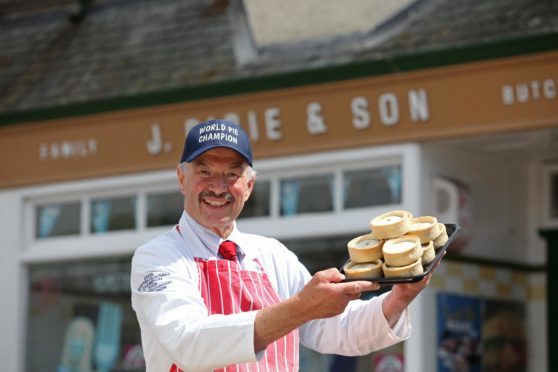 Forget Joshua versus Wilder.
There might still be behind-the-scenes haggling over boxing's $250 million super fight but one undisputed heavyweight contest will definitely be going ahead.
This Sunday an Angus butcher will walk the aisle bidding to become the world's best.
World champion Alan Pirie will go head-to-head with Stephen McAllister in a Scotch Pie Bake-off in the Scotch Kitchen at the Royal Highland Show which will settle the undisputed crown once and for all.
The aim of the "pie-off" will be to produce the Scotch Pie which most impresses competition judge, acclaimed chef Justin Maule of Wild Fig Food.
World Scotch Pie Champion 2018, Alan Pirie of James Pirie and Son butcher in Newtyle, will take on two-time World Scotch Pie Champion (2014 & 2016) and Scottish Baker of the Year (2016/17), Stephen McAllister of the Kandy Bar Bakery.
Both Alan and Stephen have a real passion for their pies and have over 100 years of combined experience in their respective trades.
"The 'Scotch Pie Bake-off' promises to be one of the highlights of our Scotch Kitchen action at this week's Royal Highland Show," said Graeme Sharp, Scotch Butchers Club Manager.
"While there is sure to be lots of good natured banter between our champion butcher and baker, both are incredibly proud of their Scotch Pies and will be very determined to win.
"The pair will be judged on the taste and appearance of the pies they produce in front of the audience on the stand and the good news is they will be bringing a good supply of pies for show-goers to sample."
He said the bake-off promises to be a fabulous opportunity for show-goers to enjoy watching the skills of both men, as well as witnessing the keen spirit of competition between the world champions.
Justin Maule of Wild Fig Food said; "With scotch pies from two World Champions to judge, it will be a difficult decision and I'm looking forward to finding out the secret to the perfect pie."
Both competitors have a long heritage in their respective trades.
Alan is a second-generation family butcher with a well-established shop in the village of Newtyle.
James Pirie and Son was established in 1960 by Alan's father Jim Pirie.
Alan then joined him in the business five years later.
Alan, who has over 180 trade awards to his name takes great pride in sourcing his Scotch Beef PGI, Scotch Lamb PGI and Specially Selected Pork from local farmers.
His shop is popular with customers from far and wide.
Stephen McAllister, a fourth-generation baker started in his parent's business the Kandy Bar bakery at the age of just 14.
One of his responsibilities was to fill and top the pies.
In 1991 Stephen took over from his parents and now runs the business alongside his wife Rona.
The independent family firm, now employ 80 staff employed in four shops; Saltcoats, Kilwinning, West Kilbride and Kilbirnie and have built up a loyal following in the towns as well as further afield.
TV and radio presenter Bryan Burnett will be commentating on the bake-off and there will be an opportunity for the audience to ask questions to the duo.
Alan and Stephen will also be highlighting the career opportunities which exist in their respective trades.