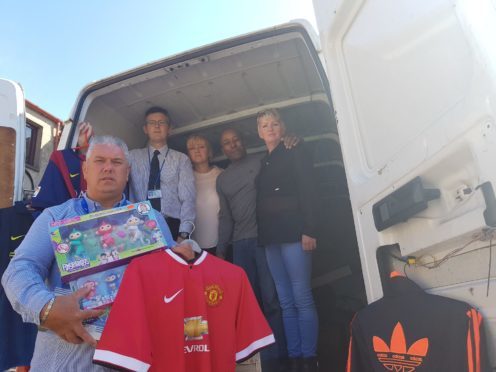 A haul of counterfeit goods seized on Tayside has been handed to a charity which recycles items to help the homeless, disadvantaged and military wounded.
Angus trading standards officers gave the counterfeit cache to representatives of Sports Traider, which works with local authorities in the destruction or rebranding of items ranging from football kit to toys and CDs.
Through the charity's No Ifs or Butts programme, they also process and dispose of cigarettes in an environmentally friendly way and at no cost to the councils that seize the counterfeit goods.
Clothing is re-branded, re-processed or shredded with re-usable items distributed to low income families through homeless shelters, food banks and directly to individuals in the street.
Some rebranded items are also made available for sale in the charity's retail sports shops with money raised helping disabled and disadvantaged people gain employment, training and sporting opportunities.
Sports Traider's role also extended to supporting armed forces personnel through a sports rehabilitation programme.
Angus Council's communities vice-convener, Councillor Tommy Stewart said: "The sale of counterfeit goods in Angus will not be tolerated and our trading standards officers work very hard to ensure that where instances are identified, stock is seized and those responsible held to account.
"Sports Traider provides us with an opportunity to ensure that some good arises from the criminal behaviour of people who sell counterfeit goods and I am delighted to be able to hand over this haul.
"It is very satisfying to see that people who deserve our support will benefit from all our hard work," added Mr Stewart.
Anyone who believes they may have been sold counterfeit goods, or suspect someone is selling fake items can visit trading standards or Citizens Advice websites.
For live incidents, Angus residents are advised to contact the authority's trading standards team the council's 03452 777 778 Access line.