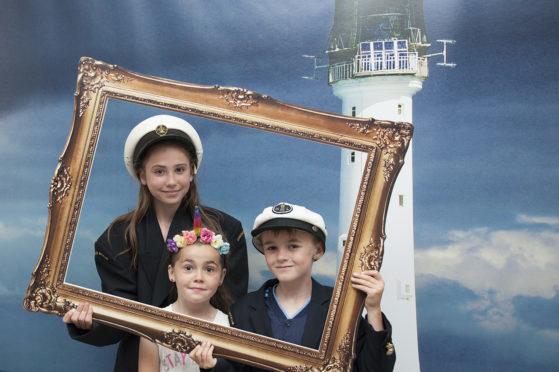 The castaway life of a lighthouse keeper on the Bell Rock was embraced by a new generation in Arbroath on Saturday.
A boot camp took place at the Signal Tower Museum in the town to introduce children to the story of the Bell Rock and what life as a lighthouse keeper was really like.
Children were given a brief tour of the Signal Tower and shown lighthouse objects before facts and stories were delivered by museum staff.
Games were also played in the courtyard, before children got the chance to make a simple lighthouse model and dress up as a keeper.
Signal Tower museum officer Kirsten Couper said: "The risks for keepers were often the period between boat transfer and the rock.
"This was often the most dangerous aspect of the job and relied on the skills of a good boatman.  There are stories including a keeper dying of appendicitis at the rock; World War Two stories of being fired upon and bombed; how the keepers dealt with a fire on the rock; and of course the story of Flannan Isles and the disappearing keepers."
The bootcamp was the idea of Kirsten's colleague Caroline Taylor at Montrose Museum, who tried a similar scheme when she worked as the learning officer at the Museum of Scottish Lighthouses in Fraserburgh.
Caroline said her stint at Fraserburgh gave her a real admiration for the keepers.
"There was way more to it than simply switching on a light although even that was challenging in itself in the days before electricity," she said.
"Keepers had to have a whole variety of skills such as knot tying, communicating with ships and storytelling to while away the long hours on a rock station."
The Bell Rock Lighthouse, off the coast of Arbroath, is the world's oldest surviving sea-washed lighthouse.
It operated in tandem with the Bell Rock Signal Tower which was the shore station.
Arbroath East and Lunan Conservative councillor Derek Wann said: "The Signal Tower is a great place for young people to go and see what brave men used to have to do to keep ships and vessels safe in years gone by.
"Automation made the process a lot safer and to this day the Signal Tower keeps the memory of yesteryear jobs for all of us to learn about.
"The career of a lighthouse keeper was extremely lonely and dangerous and the bootcamp is giving children a sense of the important work carried out."