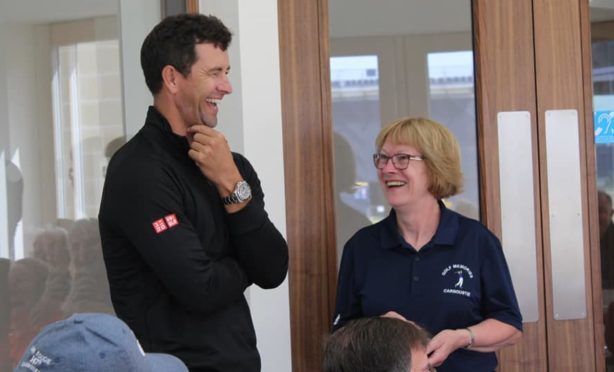 Knock knock.
Who's there?
Football.
You're home early.
That nugget of Auld Enemy social media banter is pretty much as far as my fleeting interest in Moscow 2018 has extended.
We'll skirt around the Angus-floated idea that the Cross of St George should have been hoisted atop civic buildings in empathetic alliance ahead of the hurdle at which England last week fell.
Tartan Army footsoldiers might have seen that as a red (and white) rag being waved in front of their bullish nationalistic noses, but in a county where flags and flare-ups have a bit of history, it was standard petty political stuff.
Twitter titters and heraldic hoo-ha aside, the other regular noise which seems to have reverberated back from Russia is that Gareth Southgate is a thoroughly decent chap.
Loved by the fans, the media and probably every waistcoat maker in the land, England manager Southgate conducted himself faultlessly in a sport more frequently crass than class.
I don't know whether the Three Lions gaffer is a golfer – but if he is, I bet he and Adam Scott would get on great guns.
Aussie Scott, whose greatest hour came among the striking azaleas of Augusta National where he won the famous green jacket in the 2013 US Masters, is widely regarded as one of the good guys on the PGA circuit.
And you'll get no truck with that assessment in the striking new Carnoustie Links House which will this week be appreciated by a global television audience of millions and an expected on-course crowd of some 170,000 for the Open Championship's return to the famous Angus links.
Scott took time out of his preparations for the greatest of the Majors to drop in on the thriving Golf Memories group which for the past few years has been bringing people together through their shared love of the sport.
Reminiscing about their own time on the fairways, personal recollections of the greats of the game and highlights of past championships at the likes of Carnoustie, Golf Memories is part of a thriving expansion of groups harnessing sport to support those affected by memory loss conditions.
It's a great initiative and fair play to Scott for taking such a genuine interest.