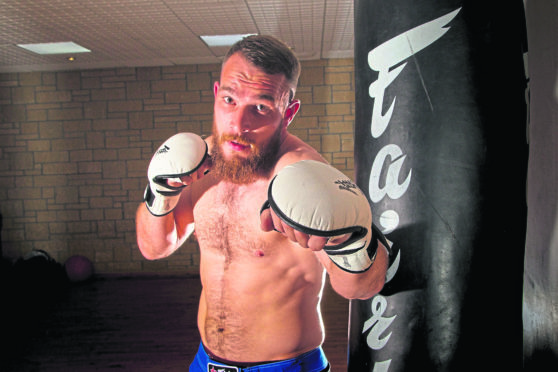 Carnoustie's answer to Conor McGregor is squaring up for a "Rocky-style" shot at the amateur middleweight title.
Mixed martial arts fighter Frazer Hirsch, 33, was hampered for two years by a string of injuries but he is now fully fit and back making his mark in the sport.
Mr Hirsch has won his first two fights this year against younger opponents and now he's been given an unexpected crack at champion Przemyslaw Krakowiak at the On Top Promotions event in Linwood on September 8.
Krakowiak is ranked 10th in the UK which is 59 places higher than his Carnoustie opponent.
Mr Hirsch said he's happy playing the underdog again but he's confident he can pull off a shock.
"I didn't expect to get a crack at the title this quickly but it's a chance I'm going to grasp with both hands," he said.
"I'm training really hard and I don't mind being the underdog because all the pressure is on my opponent who is expected to win.
"But I'm used to being the underdog because most of my opponents so far have been 10 or 12 years younger than me."
Mr Hirsch entered MMA in 2015 because he liked the training and the discipline involved in the sport, although he lost his first fight before injuries struck him down.
He returned to the cage earlier this year with double success and he will again be backed in Linwood by what he described as his "unbelievable" travelling army of family and friends from Carnoustie and further afield.
Mr Hirsch – who trains at Caley Combat in Carnoustie – is also a champion backhold wrestler and he sharpens his MMA skills with extra sessions every week at Results Gym in Forfar and Origin Brazilian Jiu Jitsu in Dundee.
The 33-year-old admits he is often mistaken for Irish MMA superstar Conor McGregor on the circuit but he said he's unlikely to follow in his footsteps and turn professional.
"I'm probably too old to be going anywhere other than amateur level with this," he said.
"I do it more as a hobby and I really enjoy the discipline, the training and the camaraderie.
"I also enjoy learning and I'm doing that every time I step into the cage.
"My focus now is on September 8 and I'm looking forward to the challenge."
Mr Hirsch said there are still tickets available for the show and he'd love more people from Tayside to come out and cheer him on.