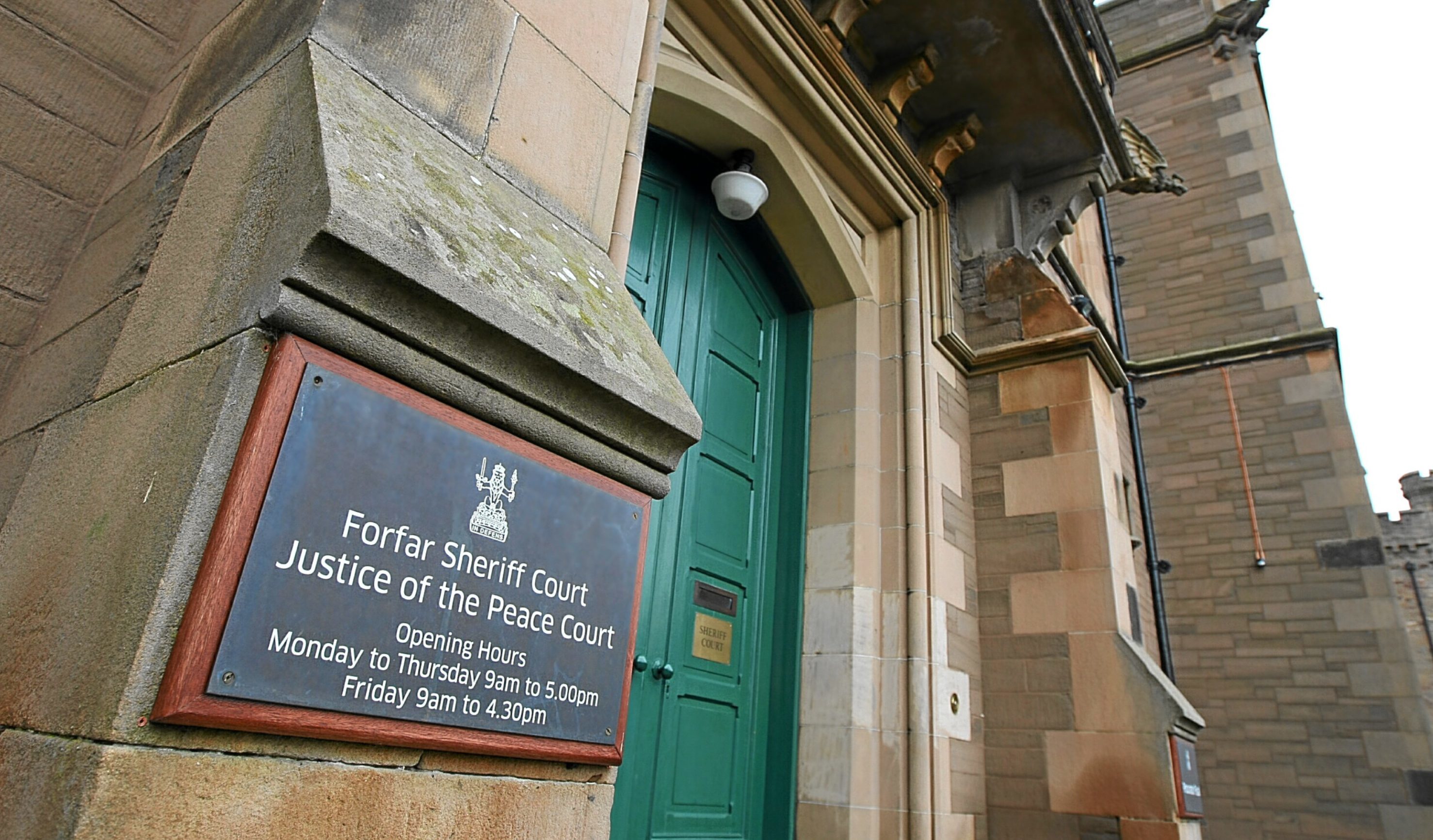 An Angus thug previously jailed for breaking a fellow footballer's jaw during an amateur game is back behind bars after attacking an innocent victim during a fall out with his girlfriend.
Ross Sinclair hit the man and smashed the rear screen of his car in which his frightened partner was trying to get a lift home from her drunken boyfriend's Forfar flat after telling him she was not going to stay the night there.
A sheriff told the 22-year-old apprentice his record, including the year-long jail term imposed for the football pitch assault, meant jail was inevitable.
Sinclair, of Restenneth Drive, Forfar previously appeared from custody at the town's sheriff court and admitted a charge of assault near his home address in July by punching a man on the head.
He also pled guilty to culpably and recklessly punching the rear window of a car, causing it to smash, and breaching the peace by behaving in a threatening manner and shouting and swearing.
The court heard the accused and his girlfriend had been out in Forfar and returned to his flat in the early hours, along with friends who Sinclair had invited along.
A friend offered the woman a lift home but Sinclair reacted badly to the idea and, despite walking away after initially arguing with his girlfriend, turned around and punched the driver in the face through his open window.
Depute fiscal Stewart Duncan said the man panicked and tried to drive off, but stalled the car and Sinclair then punched the rear screen, causing it to smash.
His girlfriend suffered minor cuts after being showered in broken glass.
Defence solicitor Nick Markowski said the couple were hopeful of continuing their relationship and she was in court to support her boyfriend.
"They had been out, he invited half the town back to his flat and it appears his girlfriend didn't agree with that and wanted to head home to Letham," added the solicitor.
He continued: "There was a sheriff and jury matter in Dundee; he was playing football and there was an altercation with another player for which he was imprisoned.
"He is a very worried man, but he appreciates he is the author of his own misfortune."
He urged the sheriff not to jail Sinclair because of family difficulties which would result.
Sheriff Gregor Murray said: "There are times when sentencing people is a very painful process from the bench.
"You have a growing record for violence, the court had previously imposed a community payback order with unpaid work, which hasn't worked, and a significant jail sentence that hasn't worked.
"Reluctantly, there is no alternative to a custodial sentence," he said, jailing Sinclair for four months.
Sinclair was playing in the Dundee Sunday amateur league when he broke a fellow player's jaw in two places after the match erupted in violence following a "reckless" late tackle made by the accused.
A Dundee jury convicted him in September 2016 of assault to severe injury after a trial which heard the attack was so brutal that bystanders heard his victim's jaw breaking, resulting in a year-long jail term.