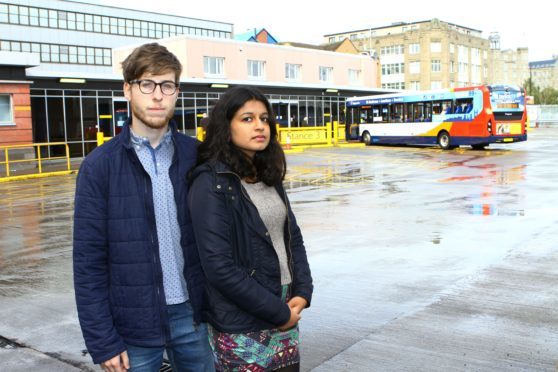 A Monifieth councillor has taken heart from the public's response since his partner was subjected to vile racist abuse in Dundee.
The Liberal Democrat member recently told how he was left heartbroken when Mariam Mahmood was targeted by a young woman who screamed the 'n-word' directly into her face near the city's bus station.
Ben, 23, and Mariam, 22, both former St Andrews University students, have been left "pleasantly surprised" by messages of support and solidarity since The Courier highlighted the story.
He said: "I was concerned when this story first went public that there might be some disheartening responses.
"Facebook comments sections have a knack for whittling down your faith in humanity.
"Mariam and I were pleasantly surprised, however, as all we've received so far are messages of support and solidarity.
"The people of Dundee and Angus have come out in force to condemn this behaviour and that's an important step in tackling this issue."
Mr Lawrie shocked fellow members of Angus Council when he revealed details of the incident during discussion of the authority's anti-racism education programme.
He was speaking up over the importance of public figures leading by example in the fight against racism following the controversy which engulfed former foreign secretary Boris Johnson over comments about Muslim dress.
"Many people have come out and said that this behaviour doesn't reflect the Dundee they know," said Mr Lawrie.
"For the most part they're right – Dundee is on the whole a tolerant and inclusive city.
"It's important to bear in mind, however, that while we don't always see racism around us, it still exists, we just aren't the victims of it.
"It would be wrong for me to say that there aren't problems with racism in Dundee because that would be turning a blind eye to the everyday experiences of people from ethnic minority backgrounds in our community.
"The reason Mariam and I agreed to share this experience was to shine a spotlight on this issue in the hope of raising awareness and understanding.
"If racism is to be addressed properly, it's important that people discuss it with an open mind, and a willingness to listen and understand.
"People were shocked and appalled when they heard our story yet for people of colour, this kind of experience is not uncommon.
"In such a divided world, sharing our experiences and listening with empathy are what will help us heal rifts in our society."