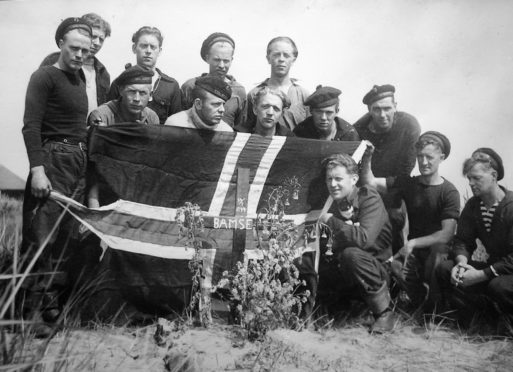 The final resting place of wartime canine hero Bamse in Montrose has been disturbed by violent storms.
A temporary repair was carried out by Montrose Heritage Trust after September storms Ali and Bronagh damaged the cross at Bamse's grave.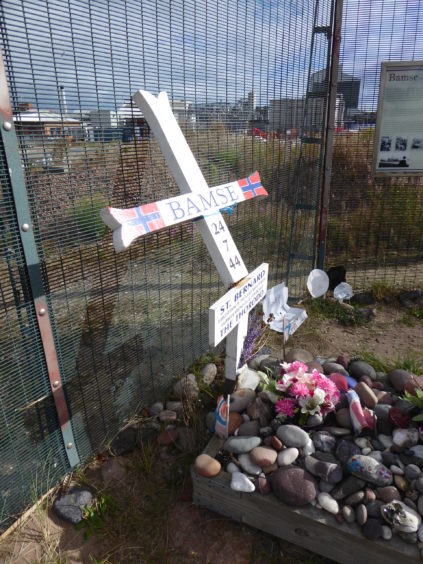 A more permanent solution is now required to make the cross weather-proof following the damage, with talks due to be held imminently with landowner GlaxoSmithKline.
The huge St Bernard dog was owned by Captain Hafto of the Norwegian Navy and went to sea with him on the minesweeper Thorodd during the Second World War.
He achieved legendary status in Montrose and Dundee, where the Thorodd was stationed, as tales of his adventures, courage and kindness spread.
Bamse became a global mascot for the Royal Norwegian forces but in July 1944 died of heart failure.
Draped with the Royal Norwegian flag and with his sailor's cap perched on it, the dog's coffin was carried through Montrose.
He was buried with full military honours in the sand dunes on the banks of the South Esk estuary and was posthumously awarded the PDSA Gold Medal for gallantry and devotion to duty.
Dr Andrew Orr, chairman of Montrose Heritage Trust, said the grave site was a place of pilgrimage for thousands of people.
"This is about the third or fourth variation of the cross," he said.
"The first was quite a primitive cross done on driftwood as seen in the iconic burial picture in 1944.
"That was replaced by one made by local resident Anne Ross who put the current wording on with a hot poker.
"Then various local joiners including Jim Buchan revived it into the current form which has been going for 30 years.
"GlaxoSmithKline upon whose land the grave exists has been enormously helpful in maintaining the cross and the site which is a place of pilgrimage for thousands of people every year from all over the world.
"The heritage trust hopes to enter into dialogue wth GSK for a more weather-proof permanent solution."
The dog became known for heroic acts, including saving a young sailor who had been attacked by a man with a knife.
As well as breaking up fights amongst his crewmates, one of his tasks was to round them up and escort them back to the ship in time for duty or curfew.
To do this he travelled on the local buses unaccompanied and the crew bought him a bus pass, which was attached to his collar.