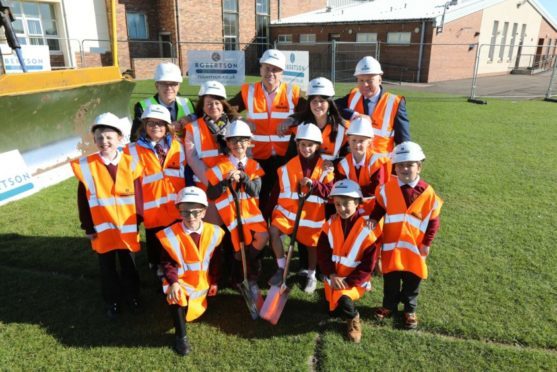 A cracking wee clip popped up on social media last week among the usual dross of Scottish football's latest fixture fiasco and bile-spewing politicos.
Both Facebook and Twitter I can take or leave, but in this business they fall into the bracket of a necessary evil, and occasionally have the ability to raise a smile.
That's exactly what Hayshead nursery achieved in posting a three-second video of a trio of tots waving enthusiastically to the man behind the wheel of a large digger involved in the early stages of the new school build.
Today we spoke to the drivers! We love learning about our new school!! @HaysheadPrimary @AngusCouncil @RobertsonGroup pic.twitter.com/wOmYns3hkv

— Hayshead Nursery (@HaysheadNursery) September 28, 2018
Hayshead and St Thomas RC primaries in Arbroath are coming together on the first shared campus in the district under a £14 million development due to open its doors in early 2020 and even for the sod-cutting excited youngsters were able to don hi-viz and hard hats to get in on the action for the ceremony.
The Arbroath project will surely follow the pattern of other recent developments, where the school community has been engaged in the process from the get go – in Forfar they even put the head teacher on the very top of the town's community campus for a firefighting rescue exercise during the build.
That level of involvement is positive in so many ways, instilling from the first course of blocks a real sense of pride in the new school which carries all the way through to the excitement of the first step into the classroom.
The by-products of getting up close to the big machinery and workings of a building site also include a platform for teachers and the construction company to get the message across about just how dangerous such places can be – and after a summer which has seen young yobs climb the scaffolding at other developments in Arbroath and the sandstone of the historic Abbey, it's a warning worth repeating.
And, who knows, maybe even at the age of just three or four, the fit of a hard hat, balletic turn of the big digger or the shapes and angles of the new building might be the seed to sow the dream of a future career.
Social media may even serve a useful purpose and give them a memorable clip to look back on and remember just what sparked their interest…